WWE HOFer Ted DiBiase On Circumstances Of WWE Departure, Joining WCW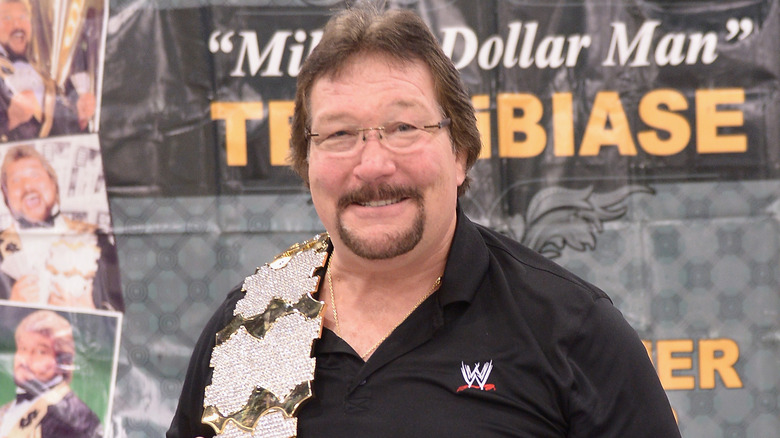 Gustavo Caballero/Getty Images
Ted DiBiase is one of a number of wrestlers who made the move from WWE to WCW, or vice versa, in the 1990s. DiBiase jumped ship in the summer of 1996, which was undeniably a key time in the world of professional wrestling. "Stone Cold" Steve Austin was starting to pick up steam in the then-WWF, while the New World Order was kicking off in WCW, leading to the "Monday Night Wars," one of the hottest periods in wrestling history. Speaking on his podcast, "Everybody's Got A Pod," DiBiase discussed the process of switching teams at that point in time.
Prior to his WWE departure, DiBiase had begun doing commentary for the company, with DiBiase saying that owner Vince McMahon had liked his work after the two called Survivor Series together in 1995. As a commentator, DiBiase had to report to Stamford, Connecticut for just a couple of days each week to record voice-over commentary, making it a nice gig for the retired wrestler. However, McMahon eventually made the decision to move DiBiase on the road.
"The road was danger," DiBiase said. "All my demons were on the road, so I didn't want to go back there, and nor did my wife want me to go back there." According to DiBiase, McMahon assigned DiBiase to work with Sid Vicious, which he claims was essentially "a babysitting job."
'The Million Dollar Man' Jumps To WCW
DiBiase later heard from people in WCW that, if he were to jump ship, he would be able to spend just one day on the road each week. This would be much more favorable than his WWE role at the time, allowing DiBiase to have an easier time keeping his issues in check. On top of that, the contract had much more favorable financial terms for DiBiase.
"When my contract was coming up due, ... I didn't re-sign with Vince," DiBiase continued. "What Bischoff basically offered me was, 'You just come do for us what you were doing for them.' But now, when I got over there, I was like a part of the crew. And the other thing was, it was a significant difference in pay, in terms of — this is a three-year deal, no-cut contract. And even if I don't work, I still get paid. And my biggest reason for leaving Vince was I didn't want to be on the road."
According to DiBiase, he later spoke to McMahon about the matter upon re-joining WWE in the 2000s. DiBiase said that he told McMahon about why he had left in 1996, with the boss telling him that he simply would've needed to come tell him his concerns about being on the road and McMahon would have taken care of it.