Former WWE Referee Says Cody Rhodes Should Have Been Disqualified At SummerSlam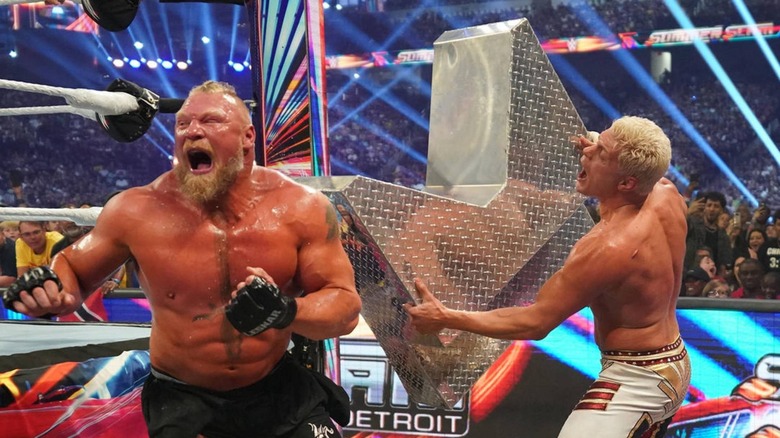 WWE
Cody Rhodes' triumph over Brock Lesnar at WWE Summerslam provided a positive moment for the fans in Detroit. Their final clash at Ford Field on Saturday night was another hard-hitting affair, but one moment during the match led to some controversy, with Rhodes ramming part of the steel steps into Lesnar. Former WWE official Jimmy Korderas claimed the incident should have brought an end to the bout during an interview with "Busted Open." 
"It technically should have been a disqualification," he said.
"You can throw them into the stairs and that's not a disqualification... but he picked up the top half of the stairs and he ran it into Brock. Technically speaking, that should have been a disqualification. I get the argument about letting things fly because of the magnitude of the match, but at the same time, I think it should have been a DQ. I understand that specifically with big matches such as this one –- but at the same time, you have to cover up for the referee and not put the heat on the ref. 
"When you let that slide, the heat goes onto the referee for letting it go."
Busted Open co-host and WWE Hall of Famer Mark Henry agreed with the sentiment from Korderas, claiming the heat should always go to the heel as opposed to the referee. Following his hard-fought win at SummerSlam, Rhodes has now seemingly turned his attention to WWE World Heavyweight Champion Seth Rollins, with the pair trading barbs and teaming together on the August 7 edition of "WWE Raw." 
If you use any quotes from this article, please credit "Busted Open" with a h/t to Wrestling Inc. for the transcription.