Rob Van Dam's Approach To AEW Future Ahead Of Dynamite In-Ring Debut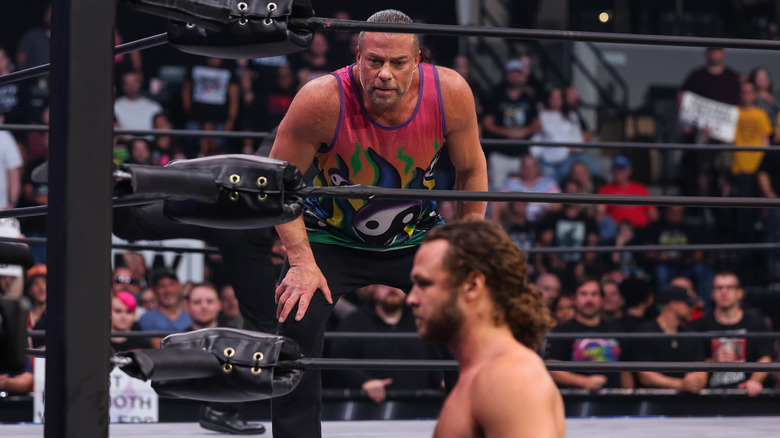 AEW
Bruce Lee used to say, "Be like water making its way through cracks" in all things in life, favoring flexibility and patience, over brute force and assertiveness. Rob Van Dam is taking the same approach to his upcoming match with FTW Champion Jack Perry and his potential tenure with AEW as a whole.
"We'll see how it goes," Van Dam said coyly on the latest "One of A Kind." Van Dam made his debut in the company on last week's "AEW Dynamite," beckoned into action by former ROH World Champion Jerry Lynn. Lynn is hoping Van Dam can teach the FTW Champion a lesson, as Lynn is not happy with the way Perry has been carrying himself since ditching his Italo Pop theme song and winning the title from former-friend Hook at "AEW Dynamite: Blood & Guts."
Van Dam's debut was kept close to the chest, with the former WWE Champion whisked away to a private locker room, seated in a wheelchair and draped in a black curtain. There don't appear to be any long-term plans for Van Dam in the promotion, much like ECW Original Sabu before him.
As mentioned, Van Dam was brought into the promotion by AEW Coach Jerry Lynn, as the retired wrestler can't shut Jungle Boy up himself. Van Dam recently said that he was saddened by Lynn's retirement in 2013 and tried to talk the former WWF Light Heavyweight Champion out of hanging up his boots, saying he enjoyed working with Lynn in their famous ECW matches.