Chad Gable Understands Why Maxxine Dupri Has Connected With WWE Fans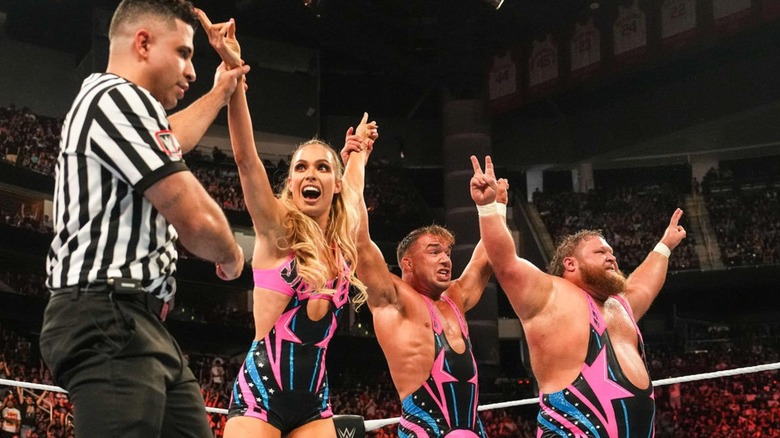 WWE
Chad Gable and Otis of The Alpha Academy have consistently been one of the most entertaining acts on "WWE Raw" over the past few years. But their transition from cowardly heels into fighting babyfaces was largely facilitated by the arrival of Maxxine Dupri — the third and newest member of the faction.
The WWE Universe has wholeheartedly embraced Maxxine's new role, as a cheerleader and occasional wrestler, after her portrayal of a fashionista was abruptly dropped by WWE creative. In a recent interview with "Busted Open," Gable showered Maxxine with praise for learning the nuances of pro-wrestling "on the fly" and excelling at the craft in quick time. 
"I'm trying to rack my brain trying to figure out how many times this has happened in the history of our business where someone is literally learning the job," Gable said. "She's at TV every week and learning how to do an arm drag or suplex — there are people coaching her, myself included. You're watching it happen, and I think that's what [has] connected [with] people — it's like, they got that. This is real, this is organic, [and] we're watching this girl kinda [learn to wrestle]."
Gable then discussed the challenges of Maxxine transitioning from "an immaculate-looking model" into her current persona, which he acknowledged could have backfired if she didn't buy into her current persona. On that note, Gable believes Maxxine's imperfections and vulnerability have resonated with the audiences.  
"Physically, she doesn't have all the tools these other girls have," Gable admitted. "She does stumble every once in a while, she's not perfect in every way, and I think when people finally saw that aspect of her, they [appreciated her efforts]. I remember the moment when I handed the Letterman jacket when she graduated [on 'Raw'], and she had the goofiest look. That's what people latched on to. I love that. She's willing to be vulnerable."