Eric Bischoff Details What Turns Him Off When It Comes To AEW's Product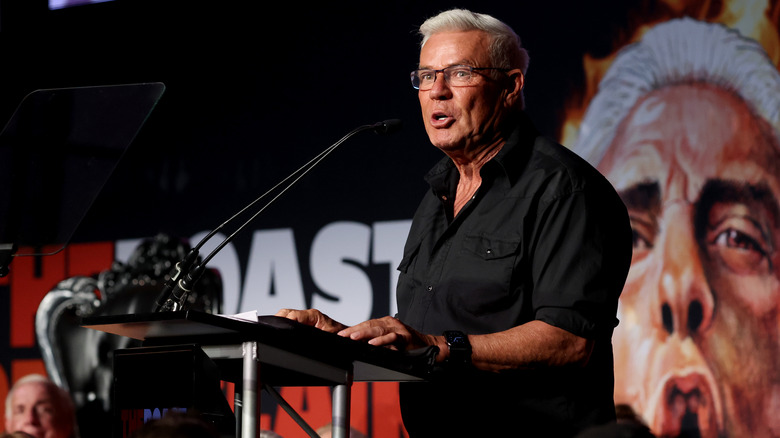 Jason Kempin/Getty Images
On the latest episode of his "83 Weeks" podcast, Eric Bischoff highlighted one aspect of AEW that has precluded him from getting emotionally invested in the upstart promotion's weekly programming. Bischoff's latest thoughts came about when he was asked if AEW All In could learn a thing or two from WWE SummerSlam.
"No," Bischoff responded emphatically. "They're gonna have one of the most important characters on the show — the audience. Keep that audience engaged — just keep 'em engaged. Pace the show, so that you're building throughout the entire event, and you're building to a crescendo or climax."
Bischoff implored AEW to avoid "overdoing" hardcore matches and bloody encounters that have become synonymous with the promotion, especially in the aftermath of their recent Blood & Guts contest. The former WCW President believes many within the AEW roster likely have a misconception that gory violence "gets over" with the audiences, but don't realize that it repels fans and fails to bring an emotional connection. 
"Talents, sometimes, have the tendency to do what talents think is over, and sometimes they're absolutely right," Bischoff continued. "You could look at guys like Bret Hart, Hulk Hogan, Ric Flair, and Roddy Piper — but those guys had a feel because of the thousands of matches they had, in front of hundreds of thousands of people. They learned. The audience on the AEW roster right now is [very inexperienced]."
"Pace it," Bischoff added, urging AEW's wrestlers to connect with audiences. "Be careful about going too far with the violence. That's the thing that turns me off about AEW more than anything else. It may get you off, but it doesn't get over with the audience. Pace yourself, and realize that the audience is actually the star of the show."