Wrestling Legend Ric Flair Details Ambitious Fitness Goals For When He Turns 75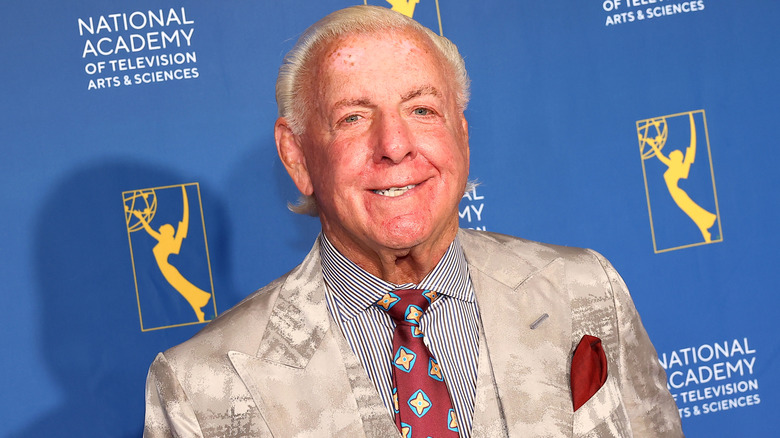 Arturo Holmes/Getty Images
In August 2022, 16-time world champion Ric Flair wrestled what was billed as his last match at 73 years old. As he prepares to turn 75 next year, Flair isn't settling down anytime soon. Appearing on "This Past Weekend with Theo Von," Flair shared the fitness plan he hopes to accomplish when he hits that milestone age next year.
"I want to bench press 225 five times and I want to do the 500 free squats in 14 minutes again," Flair said. "It's very doable, but you have to do it."
Flair then told a story about an intense workout he used to do involving a deck of cards. The WWE Hall of Famer stated that he would shuffle the deck and lay out cards one by one, with the Joker card representing 20 reps, face cards such as Ace and King representing 10 reps, and the standard numbers each representing that many reps. Flair would flip a card, do that many crunches, push-ups, or squats, and then flip the next card and continue. In the end, Flair says the routine winds up involving 457 of each different workout.
The 74-year-old noted that he couldn't do that kind of workout anymore, which is partially why he had trouble with his final match last year. During the conversation, Flair detailed how he felt during the match, including "falling asleep" multiple times in the ring.
Flair has previously stated that he would like to have another "last match," as he wasn't fully satisfied with his performance in last year's bout. The match featured Flair teaming up with his son-in-law, Andrade El Idolo, to take on Jeff Jarrett and Jay Lethal. Flair and El Idolo wound up winning, with the legendary Flair going out on top — just as long as it remains his final match.