WWE Star Cody Rhodes' Sister Teil Shares Inside Info On His Infamous Neck Tattoo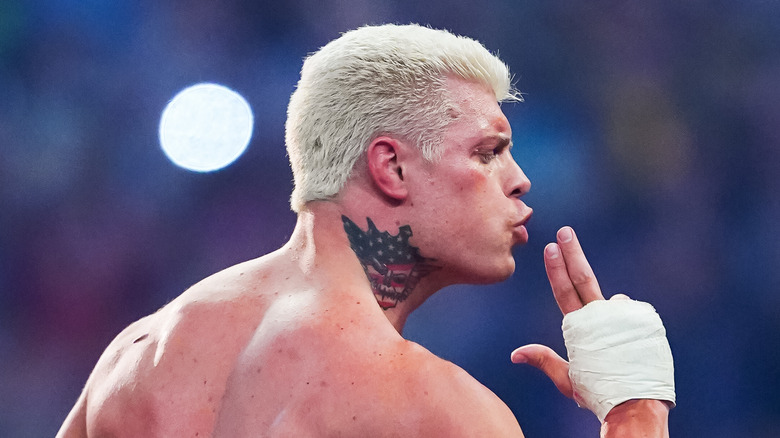 Alex Bierens De Haan/Getty Images
Cody Rhodes' infamous "American Nightmare" neck tattoo has been a talking point since he introduced it at AEW Revolution in early 2020. Rhodes has not shied away in stating that he got the tattoo on his neck to boldly represent his brand (although he has admitted that he didn't know it would be as big as it is).
As time goes on, more details have emerged regarding the tattoo's legend. In a forthcoming interview with Fightful's "In The Weeds," Cody's sister Teil Rhodes will reveal that she was the one who found the tattoo artist located in Georgia and booked the appointment. However, she thought it was going to be a chest tattoo.
During a recent Q&A on Twitter ahead of the release of his Peacock documentary, Rhodes hinted at who inspired him. "There were 2 guys that really inspired me, one had a chest tat and the other had the iconic bull on his arm...at the time I just wanted to wear my own brand as loudly and proudly as I could but didn't want to copy their style."
Rhodes' tattoo design has now become the featured logo on all of his merchandise since returning to WWE last year. WWEShop.com even carried temporary American Nightmare tattoos at one point as Rhodes noted that Vince McMahon hadn't said anything negative about it.
His history with questionable tattoo decisions actually dates back several years. Rhodes revealed earlier this year that Kofi Kingston once talked him out of getting the Legacy logo tatted on his body prior to their triple threat match at WrestleMania 26 in 2010. That match was Rhodes' first WrestleMania, but Kingston didn't think it was the right situation for it.