AEW's Jack Perry Pays Compliment To A Defeated Rob Van Dam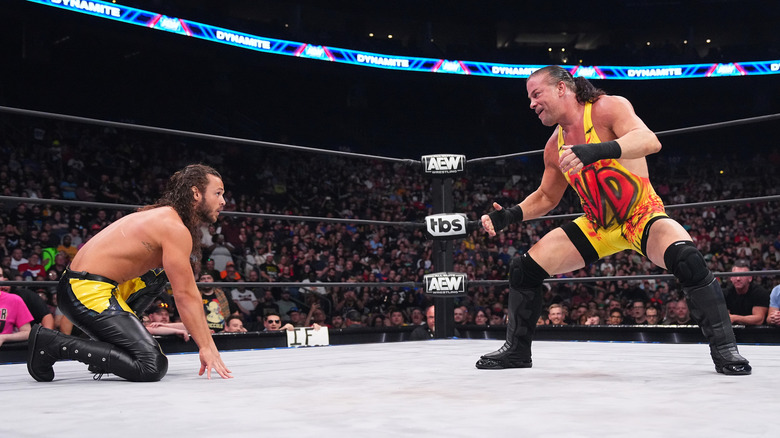 AEW
Despite his loss on last night's episode of "AEW Dynamite," Rob Van Dam has earned a rare compliment from recently-turned heel Jack Perry, whom he challenged for the FTW Championship. Heading into his "Dynamite" debut, RVD received some criticism in relation to his age, with some online commenters saying that he was "too old and fragile." RVD's performance, however, has seemingly put some of those doubters to rest, as Perry reminded those fans that RVD is still "The Whole F'N Show."
"To all the losers on here who like to talk s*** without ever having done anything in their lives, [Rob Van Dam] is STILL a world class, freak athlete, one of a kind, amazing professional wrestler," Perry tweeted. "And beating him cements my legacy as the greatest FTW Champion to ever live." 
Perry's victory over the ECW alumnus did not come without controversy. During Wednesday's title match, which was contested under FTW rules, RVD controlled much of the early portion. After Perry accidentally nailed the referee with a steel chair, though, Van Dam's subsequent pinfall attempt was unable to be counted. Upon the arrival of Aubrey Edwards, Perry struck RVD with a low blow and sent him head-first into the chair that had been placed in the corner. As the tide shifted in his favor, Perry rolled Van Dam up and grabbed his trunks to secure the pinfall to retain  his FTW Championship. 
As of this writing, it's unknown who Perry's next challenger will be. It is worth noting, however, Tommy Dreamer and Bully Ray have both volunteered to take part in Perry's ongoing storyline against various ECW alumni.