Booker T Reacts To Seeing Rob Van Dam In Action In AEW At Age 52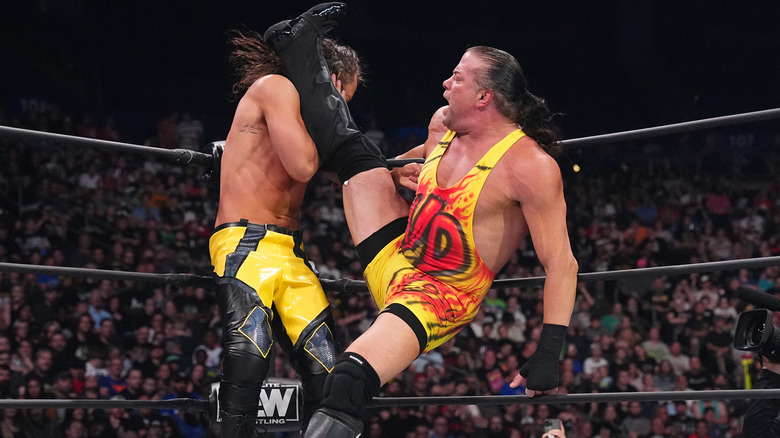 AEW
He may have been on the losing side of Wednesday's FTW Championship match, but Rob Van Dam's valiant efforts have earned the praise of many wrestling personalities, including the reigning titleholder Jack Perry and WWE Hall of Famer Booker T.
During a recent edition of "The Hall of Fame" podcast, Booker shared his take on RVD's title match performance, which also served as his "AEW Dynamite" debut. "It was good to see Rob out there doing his thing, because I'm gonna tell you, Rob loves the squared circle," Booker said. "Rob is in his zone when he's inside the squared circle, and I give him props for going out and bringing back some of the old hits."
As Booker alluded to, RVD unleashed several of his signature moves in the respective title match, including the Rolling Thunder, Five-Star Frog Splash, spin kick, and an attempted Split-Legged Moonsault. With RVD's age sitting at 52, though, Booker believes the ECW legend exercised extra caution before executing those moves.
"I thought Rob did damn good. You could tell, though, one thing about when you get to that number, you got to think about everything before you do it. You don't just think, you asked God to help out a little bit," Booker said.
Following RVD's exit from Impact Wrestling in 2020, many wrestling fans hoped to see "The Whole F'N Show" make an in-ring return to WWE. As Booker explains, though, companies like WWE seem to be pivoting their focus toward a more youthful demographic of performers. "WWE is definitely that type, once you get past a certain age — they're trying to move to a younger group of stars, and I get it... It's definitely a young man's game, is what I'm saying."
If you use any quotes from this article, please credit "The Hall of Fame" with a h/t to Wrestling Inc. for the transcription.