Chelsea Green Vows To Break The WWE Women's Tag Title 'Curse'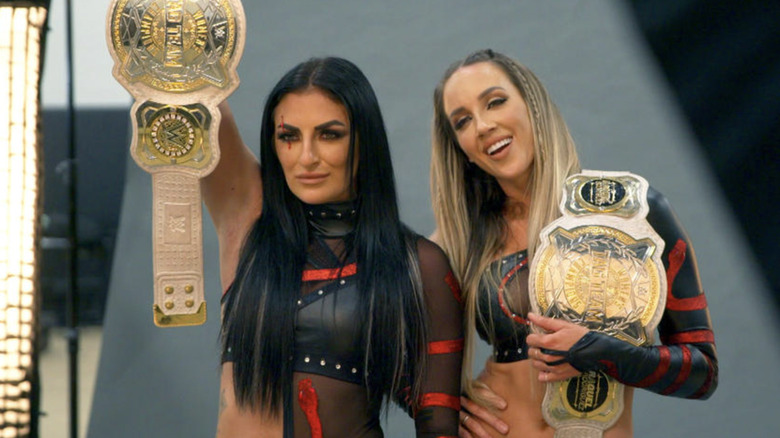 WWE
WWE fans continue to label the WWE Women's Tag Team Championship as "cursed" following the announcement that Sonya Deville will miss months of action due to a torn ACL. In light of the disappointing news, her tag partner Chelsea Green appeared on "After The Bell" to address what she plans to do to get rid of "the curse."
"They were cursed. Past tense," Green said. "I am now the woman to change the trajectory of these tag team championships. They are no longer going to be cursed. Actually, I've gone ahead and bought some items to sage them. So you will be seeing that on TikTok, don't worry. We're going to make a new path for these bad boys, and I think I am the perfect woman to do that."
She added, "What makes me different is I'm about to take [the titles] on a whole different journey. I might even rename them. They might be the 'Undisputed Unified World Heavyweight Women's Tag Team Champion,' no 's.' The UUWWTTC. Yeah, I think that's what we will do. I just have to get Adam Pearce to sign off on a quick little memo stating that I can do that, but that should be no problem considering he signs off on so many other silly things."
Green noted that she would love to defend the tag titles as a "one man band." But she also needs a suitable opponent and wants to see other women in the division step up to prove themselves worthy of a title shot.
Thus far, WWE has not addressed what's to come of the Women's Tag Team Championship situation. When Liv Morgan suffered a shoulder injury as a titleholder in May, WWE crowned new champions in a four-way bout.
If you use any quotes from this article, please credit "After The Bell" with a h/t to Wrestling Inc. for the transcription.