Mustafa Ali Debuts New NXT Gimmick Similar To One WWE Supposedly Scrapped In 2021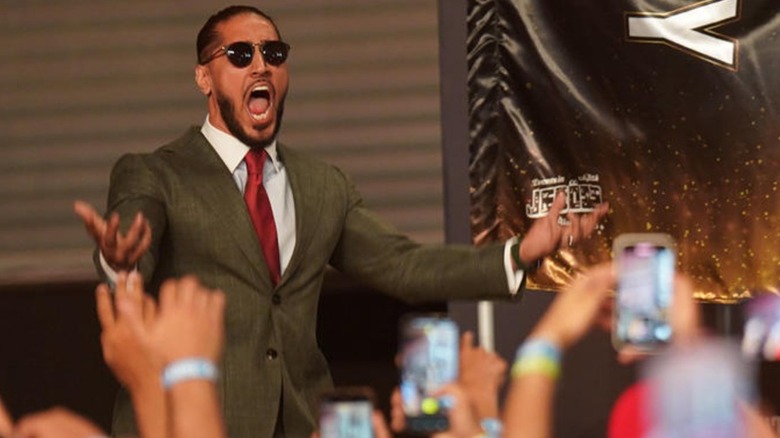 WWE
It's better late than never for Mustafa Ali. 
A few years after his "New America" storyline was nixed by WWE, Ali brought back elements of a similar character on last night's "WWE NXT," delivering a passionate speech where he declared himself as the "NXT" North American Champion people deserve. Ali called out current champion Dominik Mysterio for disrespecting family values and for being "a convicted criminal" while stressing that the people of North America deserved a better representative as champion.
"They deserve someone who's a champion both inside and outside the ring," Ali said. "I am the North American Champion that we need, I will elevate the North American Championship to unparalleled heights — all while inspiring millions across the continent [so] that, they too, can do incredible things the right way."
Ali — resembling the voice timbre of a politician — asked the audience to "open your ears" and "raise your heads" and realize that the time had come for a change. "You will reach out, take my hand, and believe in a greater North American Champion. Believe that in Ali, you can trust," he concluded. 
"I am the North American Champion that we need!"@AliWWE is ready to make his push toward the North American Championship 🙌#WWENXT pic.twitter.com/CkrrHi7gsx

— WWE (@WWE) August 16, 2023
Ali debuted a similar character on the October 29, 2021 episode of "WWE SmackDown," where following a loss to Drew McIntyre, he called out fans for not accepting him due to his last name. A week later, he shared an unreleased vignette via Twitter where he preached the need for a "New America" while dressed in a suit. Subsequently, Ali revealed he wanted to "bring a beautiful vision to life" but his political character was "deemed controversial" and therefore scrapped by WWE. 
Shortly thereafter, Ali reportedly had an argument with Vince McMahon, which led to him asking for his release. While he was never granted his wish, he remained off all WWE programming through November 2021 until his return on the April 25 "WWE Raw" last year. In recent months, he has been a regular fixture on the "NXT" brand.
a few weeks ago, i made a statement that some deemed controversial. my intentions were to bring a beautiful vision to life. unfortunately, for reasons beyond my control, i won't be able to make that vision a reality. but i can share with you what could have been. pic.twitter.com/V2bKzYJUrw

— Mustafa Ali / Adeel Alam (@AliWWE) November 13, 2021