Shelton Benjamin Looks Back On Legendary WWE Raw Match With Shawn Michaels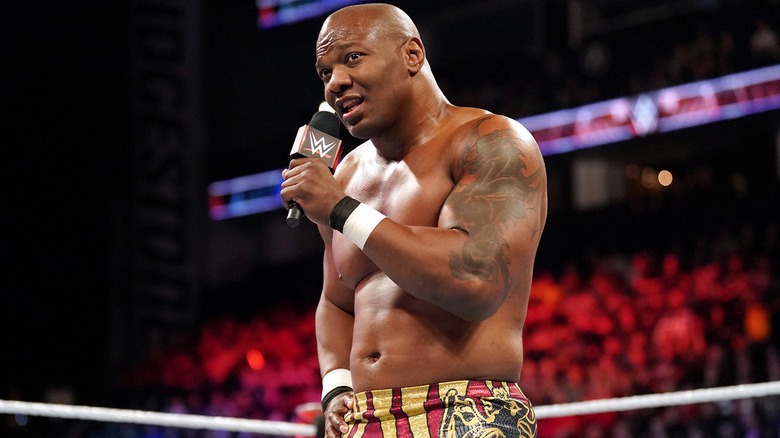 WWE
Of all the moments in Shelton Benjamin's career, the most famous seems to be his match with Shawn Michaels on a May 2005 "WWE Raw." Benjamin talked about the match on "Insight with Chris Van Vliet," revealing he got a standing ovation afterward, and that it's the match people talk to him the most about.
"Not a day goes by since I had that match where I haven't heard or seen some sort of comment for that match," Benjamin said. "Some of my more pessimistic fans think 'Oh, Shelton got his head kicked off.' That sort of stuff. But I learned really early, it's all about creating memories for our fans. So no matter what I was on, in what capacity, I just wanted to do something memorable." As for the match's most iconic spot, Benjamin springboarding into Michaels' Sweet Chin Music, Benjamin says it was neither his nor Michaels' idea, but was instead the brainchild of a wrestling legend turned backstage producer.
"Shawn came up with most of that [match]," Benjamin said. "I was following his lead. He came up with most of that match. And I want to say Michael Hayes ... the finish was Michael Hayes' idea ... Cause he came up to me and the first thing he said ... they had seen me springboard and doing things all the time. He said 'Shelton, do you think you can springboard into the ring into a Sweet Chin Music?' And I said 'Yeah. Yeah.' He's like 'Well, where does he need to be?' I said 'He can be wherever he wants to be. Tell me where you need me to be, and I'll be there.' That was pretty much the end of that conversation."
If you use any of the quotes in this article, please credit "Insight with Chris Van Vliet" and provide an h/t to Wrestling Inc. for the transcription