Edge's Trainer Reportedly Weighs In On WWE Smackdown Retirement Rumor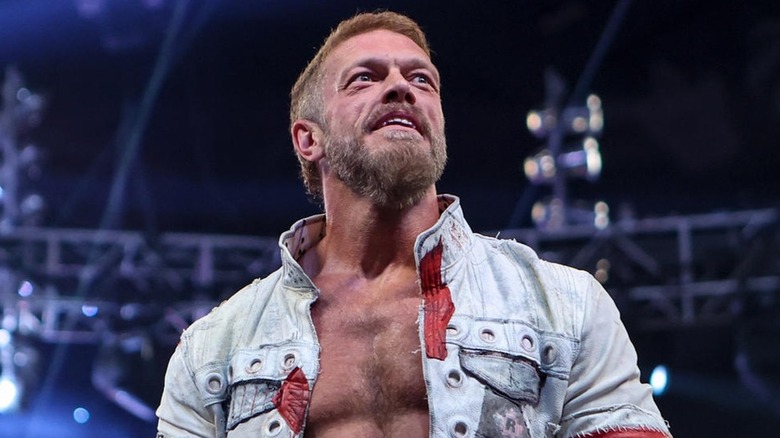 Tonight's episode of "WWE SmackDown" might be Edge's final match in the company he's been part of since 1998. "The Rated R Superstar" claims that he doesn't know if it'll be his last outing, but someone close to him believes that the upcoming match against Sheamus will be Edge's WWE swansong as an in-ring competitor.
According to the "Wrestling Observer Newsletter," Edge's trainer and friend, Ron Hutchison, reportedly claimed that the WWE Hall of Famer is pretty sure that he'll hang up his boots after "SmackDown." Edge hasn't expressed this viewpoint publicly in the lead-up to the show, but he has given fans some information about where his mind is at.
Earlier this week, Edge addressed the retirement rumors by admitting that it's the last match he's contracted to compete in, and the fact it's taking place in Toronto, Canada has led to speculation that it'll be his farewell bout. However, while he admits that wrestling has become difficult for him, he's still torn about retiring. WWE hasn't advertised the match as Edge's retirement either, presumably because the Superstar still doesn't know if he's going to hang up his boots when it's all said and done.
The "Wrestling Observer Newsletter" report notes that Edge signed a three-year deal when he returned to WWE in 2020. However, that contract was supposed to have expired months ago, but it's possible that he signed an extension. While Edge has openly stated that tonight's bout is the last match on his current contract, it's currently unknown if that means he'll become a free agent afterward. WWE signs lots of retired Superstars to Legends deals, after all.