Rob Van Dam Says Recent AEW Appearance Had Been In The Works For Months, Might Return Again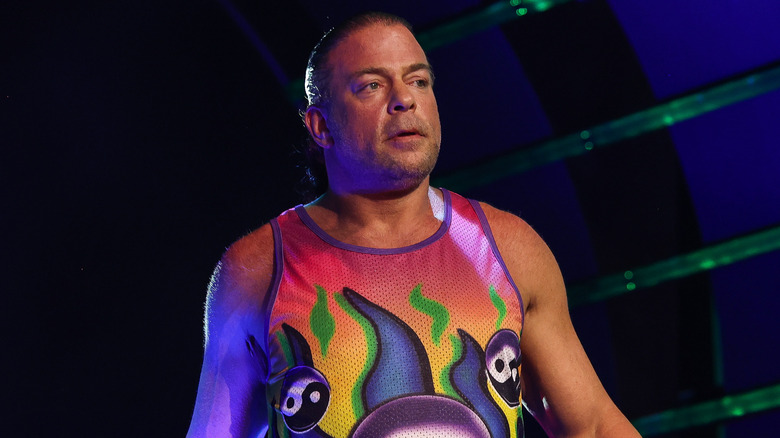 AEW
Rob Van Dam's recent appearances in AEW have brought back some wonderful memories for plenty of longtime wrestling fans — and there's reason to believe Tony Khan may opt to use him again in the future. After a lengthy in-ring absence from major promotions, RVD made his debut for the company on the August 2 "AEW Dynamite", receiving thunderous cheers from the crowd, before squaring off with Jack Perry a week later in a losing effort. The 52-year-old had been involved briefly with WWE earlier this year, announcing draft picks but never stepping foot in the ring after almost a decade away.
Speaking to Denise Salcedo, the innovative ECW legend revealed the finer details of his shocking arrival in AEW. "They had this planned for quite a while actually," he said. "It was like towards the beginning of the year that I started getting phone calls seeing if I was interested and even available. It's pretty remarkable that so many months later, the first dates that were mentioned were the exact same dates that it fell upon — that tells me a lot about how far ahead these guys think. Just like with anything, it's not real until it happens and that's how I took it."
The match between RVD and Perry was so well-received from fans and those backstage within AEW that many have called for a longer run with the promotion for the former WWE Champion. When asked about the potential of future work with AEW, RVD remained tight-lipped, but did tease there could be something down the line. "Did Tony and I talk about possibly doing something again? Yes we did," he said. "[Were there] any specific results to report from that, or any other related conversations? We'll just have to wait and see."
If you use any quotes from this article, please credit Denise Salcedo with a h/t to Wrestling Inc. for the transcription.