Kurt Angle Admits His Disappointment Over Wrestling Eugene At WWE SummerSlam 2005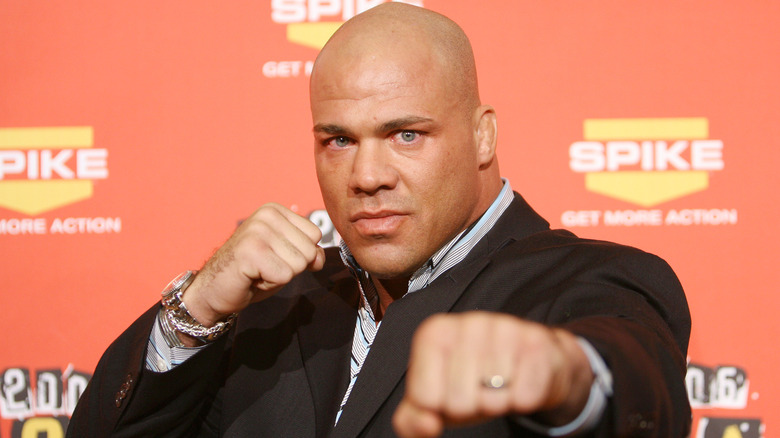 Michael Tran Archive/Getty Images
It has been nearly 20 years since Kurt Angle last wrestled at SummerSlam, with Angle soundly defeating Eugene in 4 ½ minutes at the 2005 event. The match saw Angle win back his Olympic gold medal, which he had previously dropped to Eugene during a Kurt Angle Invitational match earlier in the summer.
While he ultimately ended up happy with the match and storyline, Angle revealed he wasn't all that keen on the idea of facing Eugene that year at SummerSlam on the most recent episode of "The Kurt Angle Show." Such a revelation from Angle conflicted with past statements from Eugene, who had suggested that Angle had handpicked him for his SummerSlam opponent.
"Okay, I'm not going to babyface it," Angle said. "Yeah, I was a little disappointed. At this point in my career, I was considered one of the top guys in the company. I was in great shape, I was wrestling well. You know, I was expecting to be the main event at SummerSlam. That's where I was at that particular time and that's what I deserved to be."
"But you know what? Wrestling Eugene wasn't such a bad thing," Angle continued. "I really think the kid is talented, and I didn't mind doing it with him. It was pretty fun ... I did not take it easy on him. I was told not to, I was told to stiff the crap out of him. And I'm sorry, Eugene. It was 'The Wrestling Machine.' Probably worse — 'The Wrestling Nightmare.'"
If you use quotes in this article, please credit "The Kurt Angle Show" and provide an h/t to Wrestling Inc. for the transcription