AEW's Jack Perry Opens Up About His Late Father Telling Him To Get A 'Real Job'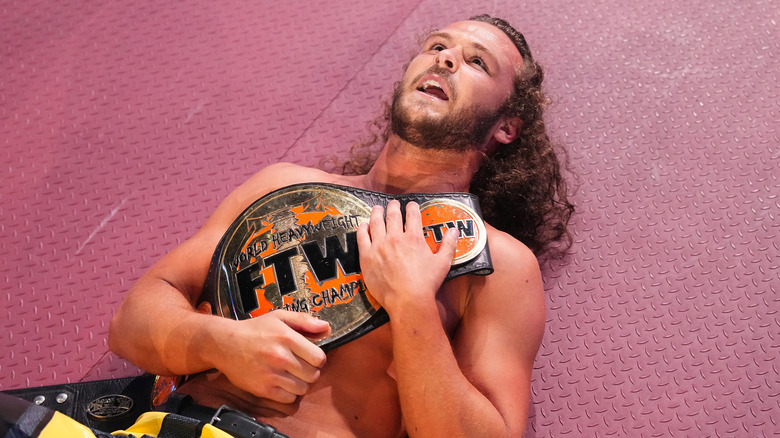 AEW
AEW viewers are already well aware that Jack Perry, the former Jungle Boy, has undergone a major personality change over the last several months. Perry made an appearance on "Hey! EW" with host RJ City over the weekend, with his new attitude on full display. The FTW Champion discussed his late father, actor Luke Perry, with Jack revealing his father's thoughts on his wrestling career.
"He actually asked me not to [wrestle]," Perry said. "He wanted me to get a real job, like be an actor or something, and I don't know. Somehow I ended up here." City pointed out that Perry could have likely had an easy route to an acting career based on his father's success, jokingly stating he took the selfish route by becoming an actor. The former Jungle Boy then teased that he could always wind up becoming an actor.
"You never know, I got a long time left to go," Perry continued. "I think there have been less talented people who have done that, so we'll see."
Perry has had his first Hollywood role, and though the part was quite small, the movie was not. The AEW star appears briefly in "Once Upon a Time in Hollywood," the most recent outing from acclaimed director Quentin Tarantino. "Once Upon a Time in Hollywood" was also Luke Perry's final role before his 2019 death.
Though Perry doesn't currently have a match scheduled for AEW All In this weekend, he has a segment planned for this week's "AEW Dynamite" that seems like it could set something up — for All In or possibly another show. Perry is coming off a win against ECW legend Rob Van Dam two weeks ago, and said that he plans to retire the FTW Championship on Wednesday.