Tyler Breeze And Fandango Were Initially Opposed To Forming Tag Team In WWE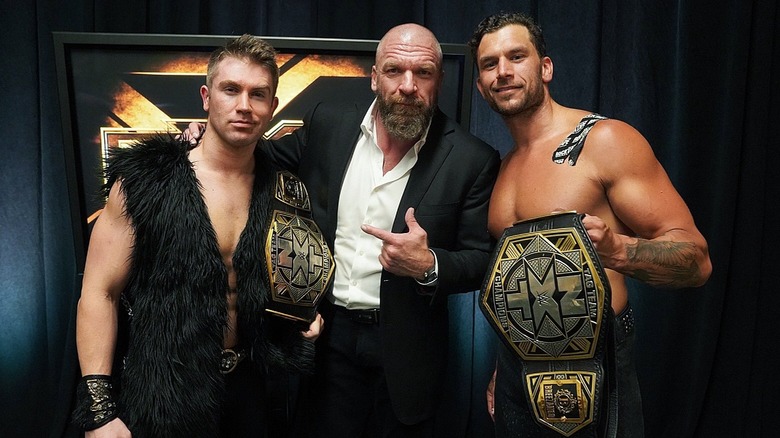 WWE
Breezango (Tyler Breeze and Fandango) was a popular WWE tag team between 2016 and 2021 and only ceased teaming up due to them being released by the company. However, despite their in-ring success, it turns out the duo didn't initially want to team together.
"You could kind of see the writing on the wall where it was like, okay, the model and the dancer toss them together," Breeze revealed on "Agents of Wrestling.". "They're in the same category type of thing. But actually, the funny part is he didn't really want to be in a tag team, and neither did I. I was very much in the groove of my single stuff, and I didn't want to be in a tag team. I didn't want a – you know, built this Tyler Breeze character for a reason and how it was, and I really didn't need someone to talk for me or be in a tag team. So I was very much against it, and I believe he was too. At the beginning, when we kind of heard rumbling of it and then when I got paired up with Summer [Rae], it was kind of like, all right, we can make this work, but it's not ideal."
Since departing WWE, the duo has gone their separate ways. Fandango, now using the name Dirty Dango, is continuing his career on the independents and, most recently, for Impact Wrestling. Breeze has been focusing on his Flatbacks Wrestling School and WWE's "UpUpDownDown" YouTube channel. Nevertheless, Breeze recently resumed his own in-ring career, so it may be only a matter of time before a promoter looks at reuniting Breezango.
If you use quotes from this article, please credit "Agents of Wrestling" with a h/t to Wrestling Inc. for the transcription.