Seth Rollins Vs. Shinsuke Nakamura World Title Match Made Official For WWE Payback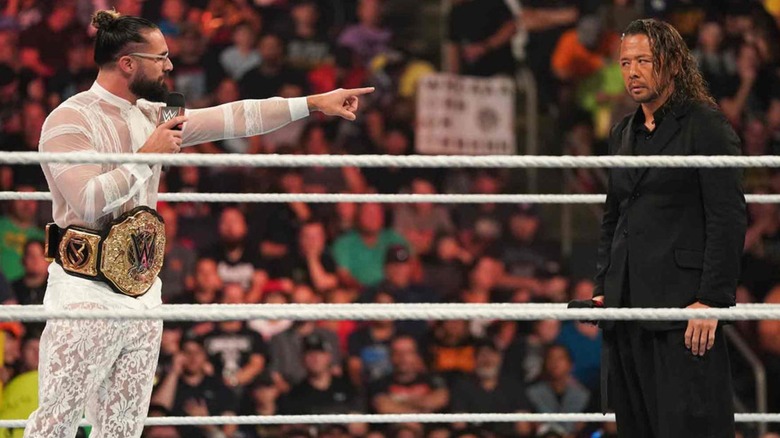 WWE
WWE World Heavyweight Champion Seth Rollins vs. Shinsuke Nakamura is now official for the upcoming Payback premium live event.
The match was announced on Monday's "WWE Raw" where Nakamura cut a promo explaining what he whispered into Rollins' ear the previous week, revealing that those words filled the champion with fear and insecurity. Nakamura said he's aware of Rollins' weakness and plans to capitalize on the same at Payback.
"I whispered to Seth ... I know about your back," Nakamura said in a pre-recorded interview. "Seth's back has been broken for many years. He lives in pain and this pain creates a void inside of him that nothing can fill. No matter how successful he is, he is still in pain. When he hugs his wife, he is in pain. When he picks up his child, he is in pain. He is a World Champion, yet every day of his life is filled with pain."
Nakamura proceeded to note that Rollins' "worst fears" were coming true as he knows "The King of Strong Style" can "break him once and for all." 
Later in the night, a despondent-looking Rollins confirmed he's been wrestling with two fractures in his lumbar spine. "I have been living with that injury for over four years," Rollins revealed. "It doesn't get better by itself. Matter of fact, it gets worse and the truth is, I don't know what the end game is, I don't know how much longer I'll be able to do this at the level I'm currently running at." 
The promo ended with Rollins calling out Nakamura for making things personal, offering the latter one more chance to "play your little mind games" on next week's "Raw," which would be the final stop before Payback. Rollins said he was giving Nakamura the opportunity to prove he's "an honorable warrior" and seemingly invited him to a brawl.
The match at Payback will mark Nakamura's first shot at a WWE World title since his match against former Universal Champion Braun Strowman in April 2020.
Shinsuke is cold. 🥶 #WWERaw pic.twitter.com/GGkVJrwgMP

— WrestlingINC.com (@WrestlingInc) August 22, 2023