Video: Go Behind The Scenes Of Edge's Return To Toronto For WWE SmackDown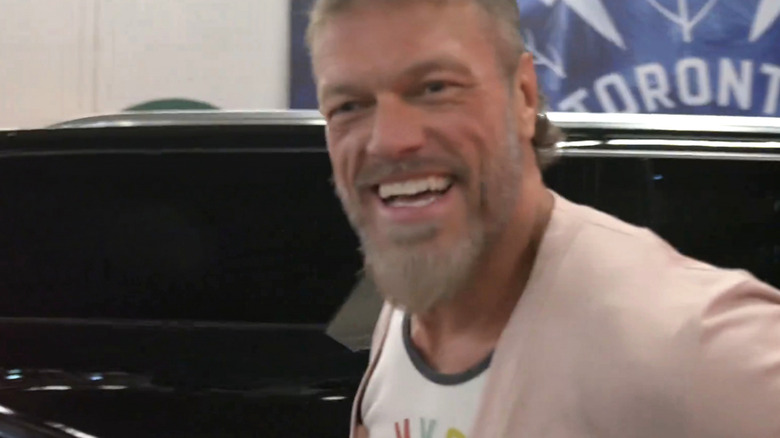 WWE/Twitter
With Edge's current contract expiring in September, last Friday's "WWE SmackDown" had an elegiac quality, as the Toronto native returned to his hometown for one final match against former WWE Champion Sheamus. WWE shared a video of Edge's Toronto homecoming. The multi-time World Champion is shown looking over the special merchandise that was made for the occasion, as well as signing memorabilia for fans.
Join @EdgeRatedR for an exclusive look at his special return home to Toronto! pic.twitter.com/gtjkI1Uz2J

— WWE (@WWE) August 24, 2023
"My first match here was '96," Edge says during the video, "that seems like a long time ago." The video features clips from Edge's match with Sheamus, as well as Sheamus gifting Edge his signature shillelagh after Edge's victory. After the match, Sheamus shares a story in which he says that he was working a night job in 2002, and saw a video about Edge, scored to Creed's "My Sacrifice" and that video inspired Sheamus to follow his dream and become a professional wrestler. Two years later, "WWE Raw" was visiting the town Sheamus was living in, and when the WWE Superstars visited his bar, Edge was the only one who sat with him and gave him advice on his fledgling wrestling career, also buying the struggling wrestler a pint of beer.
"That's a class act," Sheamus said. "I'm gonna enjoy this night, so thank you, Edge. Thank you, fella. I love you, man." The video ends with Edge struggling to take off his boots and receiving help from his wife, WWE Hall of Famer Beth Phoenix. No word yet on what is next for Edge. The "Ultimate Opportunist" was reportedly turned down by WWE when they heard his renewal demands, leading some to speculate that he could be AEW-bound. That said, Edge himself has since denied any friction with WWE over potential contract talks.