Late WWE Star Bray Wyatt's Final Instagram Post Takes On A Tragic New Meaning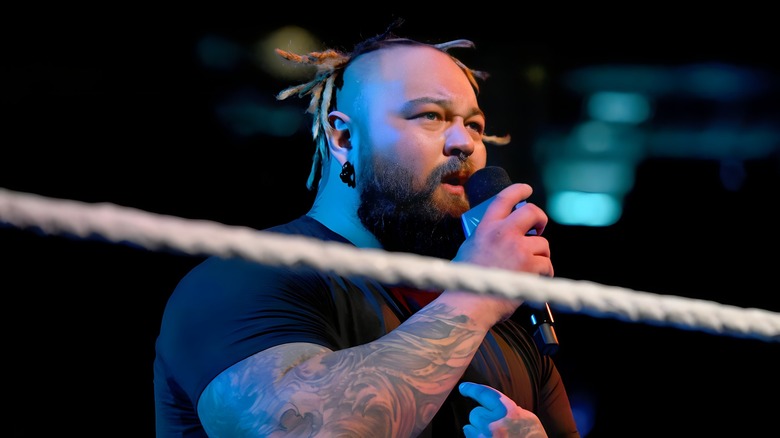 WWE
The world of professional wrestling is full of tragic tales and lives cut short, stars that shone brightly and burnt out too soon. On Thursday, August 24, 2023, fans learned of another sad and shocking instance when WWE's Chief Content Officer Paul "Triple H" Levesque announced the death of popular star Bray Wyatt — real name Windham Rotunda — at the age of 36. 
Despite the fact that he suffered multiple injuries during his career, Rotunda's death at such a young age is nothing short of shocking. In fact, recent reports suggested that fans may soon see Bray Wyatt back on WWE programming: Wrestling Inc. reported on August 10 that, per a story from Fightful Select, Rotunda was nearing a return from an undisclosed illness. The outlet later confirmed that, after the article's initial publication, Rotunda's illness threatened both his career and his life itself. Nevertheless, fans were heartened to learn that the man behind the Bray Wyatt character had seemingly overcome his illness or, at the very least, was able to manage it, given the reports that he was close to being medically cleared to perform. 
Soon after news of Rotunda's death broke, tributes from fellow wrestlers and industry personnel began pouring in over social media, with friends and contemporaries sharing their grief. Matt Hardy said he's absolutely shattered to lose his friend. Ric Flair said he was reflecting on life after Rotunda's death — who was his son's age — and the death of another friend, Terry Funk, the day prior. Kim Piper Benson, who performs as Piper Niven, said she didn't know Rotunda personally but that the Bray Wyatt character was an inspiration "for the misfits and outcasts of this world" like herself.
The idea of dying too young and Rotunda's character's dark and eerie presence are both relevant to his final Instagram post, which takes on a tragic new meaning in the wake of his death.
Bray Wyatt's final Instagram post was an ad for Mountain Dew with dark undertones
WWE
Bray Wyatt's final match came in January 2023 at the Royal Rumble. He faced rising star LA Knight in the gimmicky Mtn. Dew Pitch Black match, sponsored by the citrus soda of the same name. Inside a darkened Alamodome in San Antonio, Texas, Wyatt and Knight clashed while wearing black light-sensitive ring gear to match the theme of their tilt. The eerie and ominous Wyatt handily won the sponsored January 28 bout. 
The day prior, however, Rotunda shared a co-branded ad on Instagram promoting the upcoming match, the caption of which has taken since on a new and tragic meaning. 
"Enjoy the light while it lasts. The dark is calling for you."
On its face, the line is pretty much par for the course for Bray Wyatt, given the character's penchant for dark and poetic musings. It fit the theme of the match and the branding of the beverage sponsoring it as well. In the wake of Rotunda's death, or, perhaps more appropriately, his life cut short, this musing now reads as a mediation on the mortality we all face and a cruelly ironic reminder of how many have died young in the industry of professional wrestling. 
After the event, Rotunda discussed his match and expressed his feelings about wrestling and his approach to it, feelings that were definitely in line with the idea of enjoying the light.
In his final press conference, Rotunda spoke about taking risks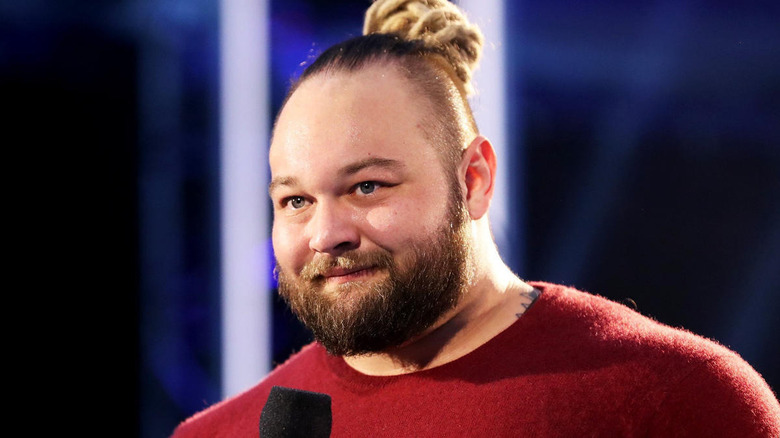 During the WWE Royal Rumble 2023 press conference, Windham Rotunda spoke about taking risks as a performer in the role of Bray Wyatt, sentiments that echo the cryptic message of his final Instagram post rather poetically.
"There's some people who like new concepts and people that take risks and things and there's people that don't just because they don't," he said, speaking of the Pitch Black match.
He then went on to muse about the professional wrestling industry he loved so much: "It's a sport to some and a show to others but I think the beautiful thing about wrestling, this industry, is that there's something for everyone and I've always kind of prided myself on the fact that I've been willing to take risks and do things that no one's ever done, because, in my opinion, if you're not willing to do that, what are you doing here?"
Rotunda further explained his approach to performing, saying "It's about leaving a legacy for me and I would do pretty much anything, especially if no one's ever done it before because I know that people will notice. And it's fun for me."
While we may never know if Windham Rotunda intended to mirror the sentiments of his final Instagram post while talking to the media after Bray Wyatt's last WWE match, it's clear that his approach to his vocation was indeed to enjoy the light while it lasted.  Likewise, there can be no doubt that WWE fans did indeed notice and he left the legacy he intended.