Chris Jericho Reveals How AEW All In Match Against Will Ospreay Came About
AEW
On August 27, Chris Jericho will face off with IWGP United States Heavyweight Champion Will Ospreay in the first-ever singles bout between the two. This matchup, of course, will take place on Ospreay's home turf as AEW heads to the United Kingdom for All In at Wembley Stadium. In a recent conversation with "The Wrestling Classic," Jericho confirmed that a match with Ospreay was pitched to him early on in the process of building toward All In, which he says began "a few months ago."
In further analyzing the upcoming contest, the former AEW World Champion explained why it felt necessary to finally put Jericho versus Ospreay into motion. "Like I said last week on '[AEW] Dynamite,' it's not a joke, not an exaggeration — this match would have already happened in the Tokyo Dome in New Japan had there not been a lockdown," Jericho said. "In 2018, I was against Kenny [Omega]. [In] '19, [it] was [Tetsuya] Naito. [In] '20, [it] was [Hiroshi] Tanahashi. [In] '21 [it] was going to be Ospreay or [Minoru] Suzuki, and '22 was going to be Suzuki or Ospreay, whichever one it [wasn't the year before]. I wanted to do Ospreay earlier than that. So to me, it's one of those matches where, will it ever get a chance to happen again? I don't know, but it needs to happen."
Blurred Lines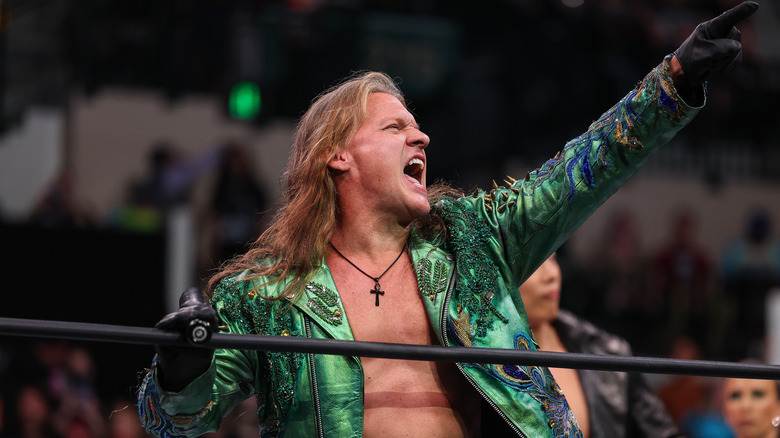 AEW
While All In may be emanating from Ospreay's home country, Jericho attests that he's likely stepped foot in England more times than Ospreay has wrestled there, which, in essence, could make this a homecoming for Jericho as well. As fans also continue trying to distinguish the roles of babyface and heel in this matchup, Jericho is adamant that the lines have been blurred in this case.
"There's no babyface and heel," Jericho said. "It's like going to the Super Bowl or going to a World Cup final, people are going to cheer for who they are going to cheer for, and they want to see a great game. That's the way I feel about it. So to me, to get the chance to face Will in Wembley at this show, I can't think of another match that I'd rather have. I really can't. There's some other ones that are big, but that one to me just seems like a big fight feel. It's very unique, and it can only happen at All In, in my opinion."
As of Thursday, the betting odds revealed Ospreay as the favorite (-1000) heading into his All In match against Jericho (+500). 
If you use any quotes from this article, please credit "The Wrestling Classic" with a h/t to Wrestling Inc. for the transcription.