Mick Foley Explains WWE Legend Terry Funk's Place In Japanese Culture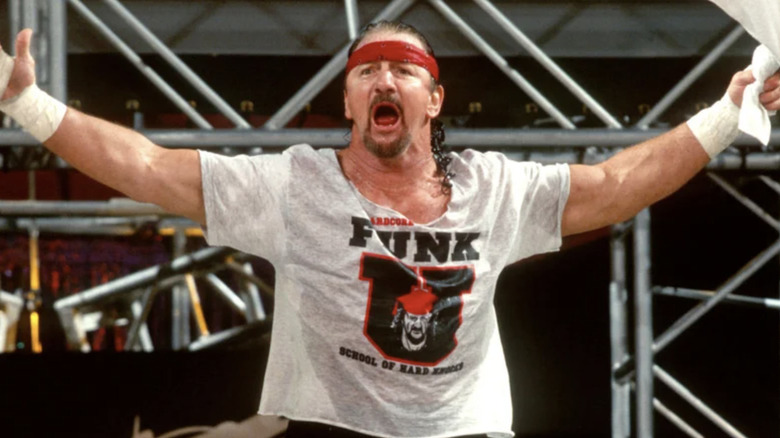 WWE
Mick Foley continues to remember hardcore legend Terry Funk.
WWE Hall of Famer Terry Funk died on August 23 at the age of 79. During a recent episode of "Foley Is Pod," Foley reflected on the impact his former rival and tag team partner had, not only on his own career but in Japanese culture.
"There were matches like the one we had January 10, 1995," Foley said, "and you look back and think, 'Wow, what was I doing in front of that small crowd?' I know we were trying to create a moment that would put the promotion on the map because we saw the media contingent out there. That's a really powerful force in Japanese wrestling, but I still look at it and go, 'Man, I think I was crazy.' But Terry was 20 years older than me. If anything, he was the guy that needed toning down, not me. Everything I did, the stuff I'm known for doing, he was doing as well and doing it 20 years my senior."
When asked how big of a legend Funk was in Japan, Foley explained how he lived up to the name.
"Yeah, well 'legend' gets thrown around a lot, as does the word 'iconic,' but he was legendary and he was iconic in the culture," Foley said. "So after that huge farewell when he came back, he was never quite the same, but he was still idolized to the point where when we did the finals of the King of the Deathmatch tournament, he left by ambulance and there were hundreds of people surrounding the ambulance all saying his name."
Foley noted that fans would stop Funk at truck stops and sushi bars because they recognized him, but luckily Funk was always "incredible" with his supporters.
If you use any quotes from this article, please credit "Foley Is Pod" with a h/t to Wrestling Inc. for the transcription.