Mick Foley Says WWE Hall Of Famer Terry Funk 'Passed The Torch' To Him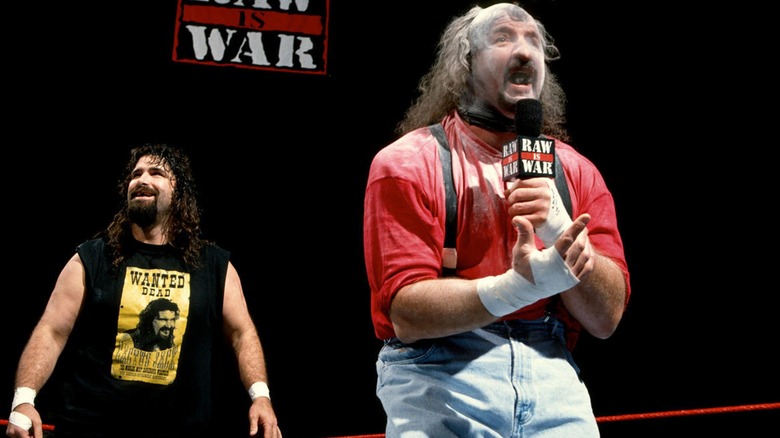 WWE
Just like the story of professional wrestling can't be told without Terry Funk, the latter half of Funk's career can't be documented without Mick Foley. After their initial battles in Japanese promotions such as AJPW, FMW, and IWA Japan, the two men traveled the world together wrestling for a wide array of indie promotions, and ultimately renewed their rivalry on American soil, for promotions such as ECW and WWE. 
In the aftermath of Funk's death, Foley remembered the life and legacy of his departed friend on "Foley is Pod," and spoke nostalgically when asked about his IWA "King of the Death Match" against Funk that took place at the Kawasaki Stadium in Japan on August 20, 1995. The brutal contest is regarded by many as the greatest death match in wrestling history, and Foley says that Funk "passed the torch" to him that night by putting him over.
"We didn't talk about the match at all," Foley recalled. "That's why if you watch the match ... at one point I think it was the most widely-watched bootleg — or just the most widely-watched match on VHS — of all time. It's probably still up there. It made quite an impact." Foley added that the match had "no design to it" seeing as he and Funk had already wrestled twice shortly before, and there was a strong heatwave in Kawasaki that precluded them from preparing for a battle that could that had "life and death" ramifications. 
"When Terry and I were getting ready, he just came into my dressing room, looked at me, and goes, 'You know I wouldn't do this for many people?' And he wasn't talking about putting people over, in general, but what he was about to do for me in Japan. [It] was something he was giving out ... he was making me over there." 
Mick Foley Confers GOAT Status Upon Terry Funk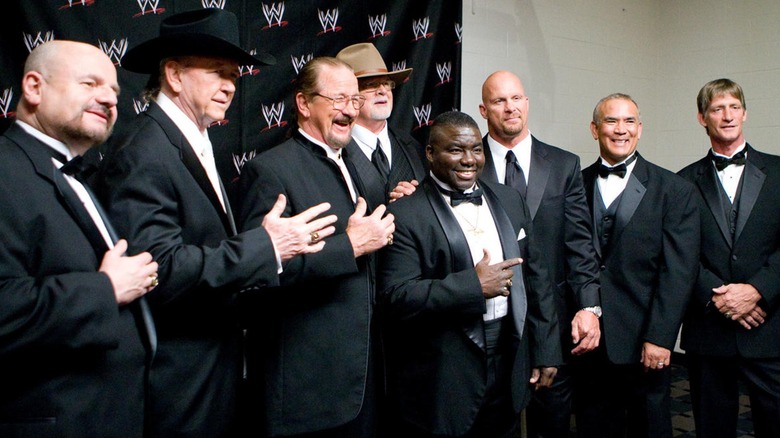 WWE
While the match put Mick Foley on the map, earning him a WWE contract, "The Hardcore Legend" admits he would have "been in a pretty good position" just wrestling in Japan, ECW, and the indies, revealing he was talked into accepting the WWE offer from Paul Heyman, who convinced him that he was a lot more than just "a glorified enhancement talent."  Despite going on to achieve great heights in WWE, Foley still believes the IWA match against Funk was the defining moment of his career. "Terry giving me that [match] really made me," Foley admitted. "I believe that, to this day, there are plenty of people in Japan, who refer to me as the King of the Death Match."
In December 1997, barely a few months after Funk retired and unretired, he returned to the WWE as a new masked character, Chainsaw Charlie, and began teaming with Foley in their rivalry against New Age Outlaws. At WrestleMania XIV, Foley and Funk defeated the Outlaws in a Dumpster Match to capture the WWE Tag Team Championship, a moment that Foley fondly remembers as one of the highlights of his career in his book, "Have a Nice Day: A Tale of Blood and Sweatsocks." 
Foley admits that the WWE run with Funk gave him more reason to believe in the late legend's greatness. "I think he was the greatest wrestler of all time," Foley said of Funk. "Nobody is wrong [to express their opinions], but if a fan doesn't have him in their top 20, they need to go back and do their homework. If someone from that era, who did work with him, doesn't have him in their top 10 ... I did say that nobody is wrong, but they are wrong." 
In conclusion, Foley stressed that Funk would be remembered as someone who "gave more of himself to wrestling than anybody I've ever seen."