6 Most Memorable Terry Funk Matches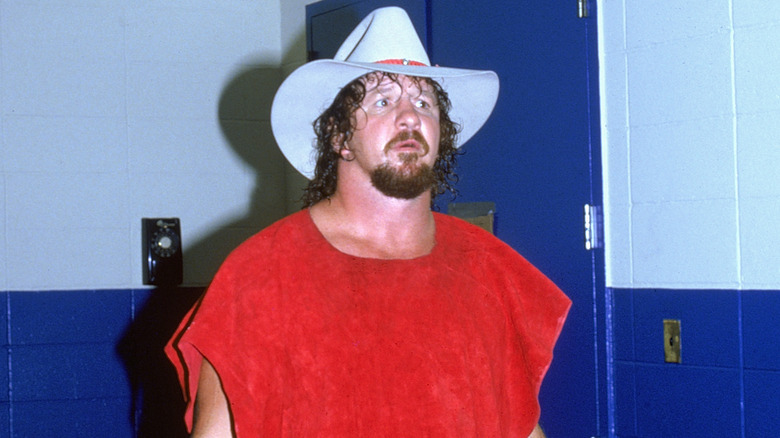 B Bennett/Getty Images
Like Geronimo, Julius Caesar, and John Wayne, Terry Funk is gone.
News of the legendary wrestler's death at the age of 79 broke on Wednesday. Having spent nearly 50 years in the professional wrestling business, Funk leaves behind an unmatched legacy that sent the Indiana-born and Amarillo-raised son of Dory Funk Sr. to numerous countries, countless territories, and televised promotions like WWE, WCW, and ECW.
When a wrestler has the resume of Terry Funk, a definitive list of his best matches will always remain elusive. As many matches as Funk wrestled in front of cameras, there were just as many, if not more of his matches that live only in the memories of wrestling fans from places like Dothan, Alabama, Odessa, Texas, or Garden City, Kansas, but Wrestling Inc. has come up with six of the most memorable matches in Funk's long career.
WCW Slamboree 1994 - Showing Out With Tully Blanchard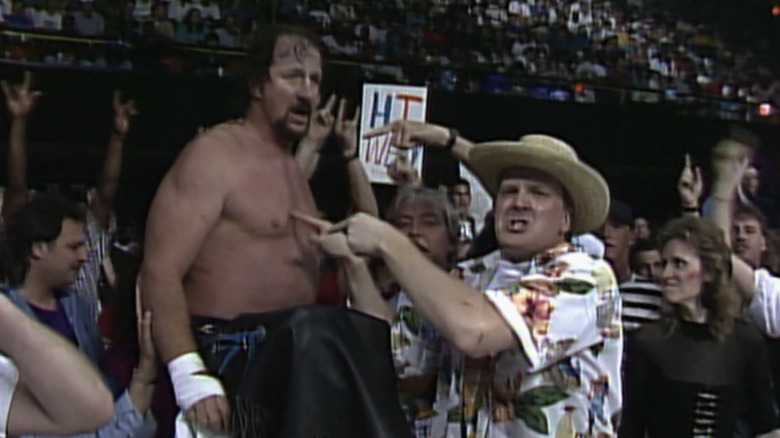 WWE/Peacock
Terry Funk and Tully Blanchard were billed as "legends" in 1994. Funk was on loan to World Championship Wrestling from the budding promotion Eastern (later, Extreme) Championship Wrestling in a talent exchange that saw Arn Anderson and Bobby Eaton appear at an ECW event the week prior.
With Hulk Hogan soon to be entering WCW, and the sun setting on territory wrestling and the grand southern tradition that it represented, the old ways were essentially being put out to pasture by the company in a bid for 1980s nostalgia that even included legendary broadcaster Gordon Solie calling the action.
What followed is a grand metaphor for Terry Funk's longevity.
Blanchard and Funk brawled on the floor to start the match, battering and pummeling each other to the delight of the bloodthirsty Philadelphia crowd. During his entrance, Funk even shared the screen with famous Philly wrestling fan "Hat Guy," who was a regular apparition in the background of Funk's late-career renaissance in ECW. A meat-and-potatoes fight ensued, in which neither man looked like they'd lost a step, conjuring some of the mid-80s National Wrestling Alliance magic in the existentially confused WCW. Roughly seven minutes later, both Funk and Blanchard were disqualified, too violent for the officials to handle.
Despite the finish, the match stands as a testament to Terry Funk's appeal. Too violent to contain, too wily to ever write off, only getting crazier and more entertaining as he got older.
ECW Barely Legal 1997 - Winning the ECW Championship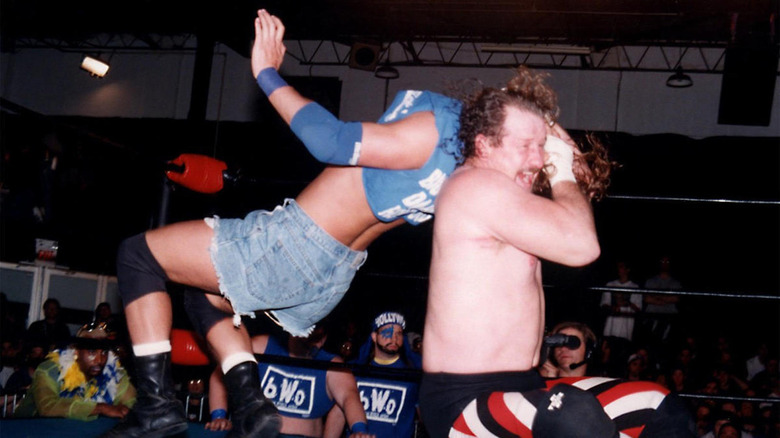 WWE
Terry Funk legitimized ECW, full stop.
The former NWA Worlds Heavyweight Champion brought an allure to the rebellious promotion, even as it divisively split from the NWA in 1994, which made it feel like a part of the noble lineage of American wrestling, despite not having the prestige of the then-World Wrestling Federation or WCW. Funk shed blood, sweat, and tears in the promotion when most of his peers were slowing down or calling it quits, thrilling fans and making moments. All of his sacrifices were rewarded at ECW's first pay-per-view, Barely Legal, in a pair of matches that saw the over-50-year-old wrestler crowned world champion by the end of the night.
Funk first survived a Three-Way Dance that also involved Stevie Richards and The Sandman after nearly 20 minutes of vicious bloody action. Immediately after that match, Funk faced the fresher, younger ECW Champion Raven, besting the Flock leader and winning the title with only moments to spare before the promotion blew a fuse and lost the connection for its PPV broadcast feed.
While not the technical masterpieces that some of Funk's earlier matches were, the consummate professional drew a level of emotion out of the ECW crowd that has rarely been seen since, creating an indelible moment in wrestling history.
ECW One Night Stand 2006 - facing a trio of WWE Hall of Famers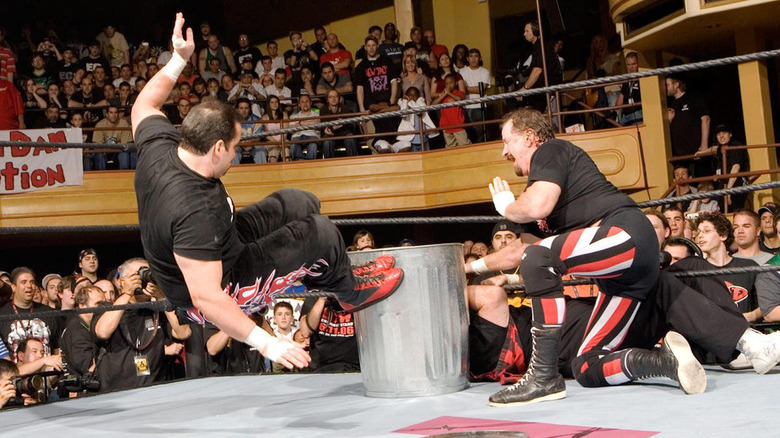 WWE
At the turn of the 21st century, Terry Funk was still kicking ass and taking names. A new version of ECW was on the horizon and, once again, Funk was called on to bring some violence and legitimacy to the proceedings.
In one of Funk's final matches under the bright lights of a major PPV event, he teamed with ECW originals Beulah McGillicutty and Tommy Dreamer in a brutal, bloody six-person tag match. The match was the kind of ultraviolent affair that WWE shied away from in the new ECW, making Funk's loss to WWE Hall of Famers Edge, Lita, and Mick Foley feel in retrospect like the end of an era.
Following their violent match at WrestleMania 22, Edge and Mick Foley had seemingly teamed up to kill the past, sending the ECW legends home bloodied, bruised, and defeated. Foley and Funk would only share the ring one more time, teaming at a Juggalo Championship Wrestling event in 2011, also making this the last major interaction between the two long-time friends and rivals.
Not only was the match poignant for all the reasons listed above, but it was also thrilling to watch Funk, then in his 60s, still bringing the fire and the fury that he was so famous for into the new millennium. His bright, immortal spirit shone through his tired, weary eyes as he delivered and received punishment with glee on that June night in the Hammerstein Ballroom.
May 5, 1993 - Funk and Onita Blow Up The World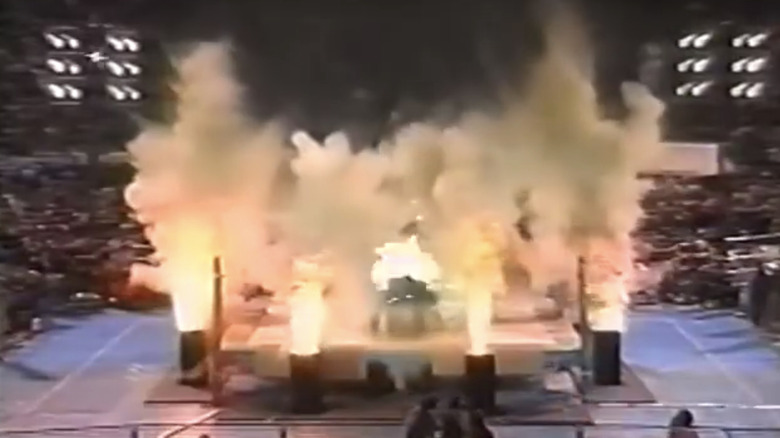 Bret FMW/YouTube
Atsushi Onita is one of professional wrestling's mad scientists, coming up with new and inventive ways to inflict pain on himself and the wrestlers of Frontier Martial-Arts Wrestling. 
Despite being relatively new to the fledgling world of actual "deathmatch wrestling," Terry Funk already had a reputation for blood and violence, becoming a natural rival of the similarly-minded Onita in the early days of FMW. The two engaged in a heated rivalry that saw them bleed buckets, culminating in Onita's magnum opus, the No Rope Exploding Barbed Wire Time Bomb Deathmatch in 1993.
Like ECW, Funk's presence in FMW helped legitimize the promotion. He was a former NWA Worlds Heavyweight Champion, who had not only wrestled to great acclaim in America but had also made a monumental name for himself in Japan, wrestling alongside his brother Dory Funk Jr. in All Japan Pro Wrestling, now locked in a bitter war with FMW's Onita, risking life and limb to be declared the de facto patriarch of violence.
Onita won the gripping, tense battle, but so valiant was Funk's fight that Onita grew sympathetic to his fallen rival. With the explosion timer counting down, Onita rushed back into the ring to try and rouse his beaten foe, but when that proved impossible, Onita covered Funk with his own body as the explosions ignited around the two men in a visual that has been often imitated but never duplicated.
IWA Kawasaki Dream 1995 - Killing Yourself To Live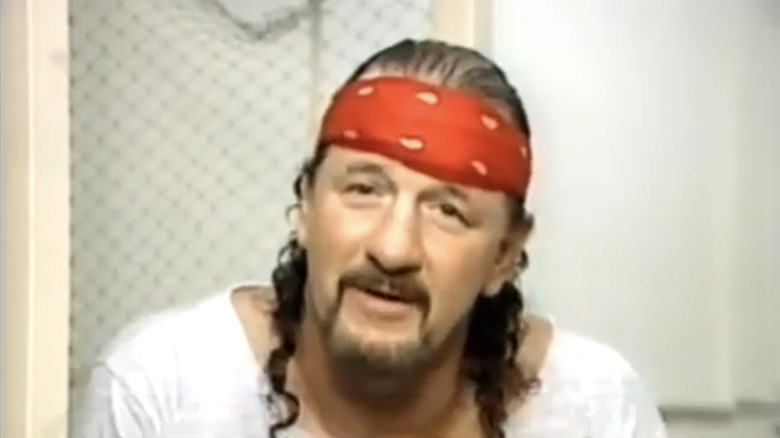 FMWdojo/YouTube
GCW, CZW, XPW, and any other promotion that treats deathmatch wrestling as a kind of brotherhood owe a debt of gratitude to Terry Funk and Mick Foley. The two men punished each other as much as they backed each other up, paving the way for any wrestler that's shared a beer with their opponent after cutting them open for a paying crowd. 
Funk and Foley were kindred spirits, as both men seemed to be able to withstand an ungodly amount of violence. The more they hurt each other, the more money they made, the more money they made, the better friends they became, and thus a vicious cycle was born. Of all their various interactions, perhaps no match had a bigger influence than their clash in the finals of the IWA Kawasaki Dream King of Deathmatch tournament.
Both men had already wrestled two matches during the one-day tournament, leaving them scarred and bandaged for the main event, the dressing on Funk's head already soaked through with his own blood. Funk once again found himself surrounded by barbed wire and explosives, landing on pyrotechnics just minutes into the match. The men sent each other into the barbed wire and explosives tentatively at first, but as the match picked up, they grew bolder and bolder, culminating in a sanguine Mick Foley getting knocked off a ladder and into a pile of barbed wire. The match doesn't have a climactic finish, instead, Funk simply runs out of energy, collapsing in the center of the ring after sending Foley tumbling, just long enough for Foley to get the pinfall. Funk tried to kick out just seconds after the fall was counted.
WCW Clash of the Champion IX - Going Toe-To-Toe With The Man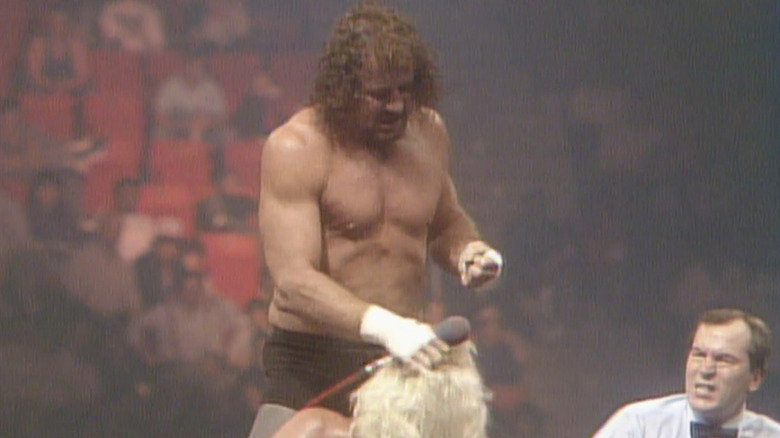 WWE/Peacock
It's impossible to explain the allure of Terry Funk without explaining that by 1989 the rough Texan was seemingly ready to ride off into the sunset. Nearing 25 years since his 1965 debut, Funk was taking acting work throughout the 1980s to get health insurance through the Screen Actors Guild. Immediately following the climax of WCW World Heavyweight Champion Ric Flair's trilogy of matches with Ricky Steamboat at WrestleWar, Funk attacked Flair, instantly turning the reviled Flair into a sympathetic figure for WCW fans. Flair used Funk's acting career as a sticking point, saying that the already-legendary Funk had essentially quit the business and that if he wanted the championship, he'd have to make Flair quit too. What followed is quite simply one of the best matches of either man's long and illustrious career.
At Clash of the Champions IX, Flair and Funk punched, chopped, scratched, clawed, and stretched each other to the delight of fans in Troy, New York, and watching at home. Funk was transitioning to acting after a long and illustrious career that had already seen a retirement or two. Flair had just turned 40 and was a couple of years away from WCW officials deciding he'd grown stale. Both men had a lot to prove to WCW fans, management, and themselves, lending an almost supernatural aura to the near-20-minute contest. Flair was able to lock in a figure-four leglock and force Funk to say the words "I quit," but neither man ever came close to quitting in the years that followed.
Funk wrestled across nearly 30 more years and countless retirements, finally hanging up his boots in 2017, while Flair also kept his career alive, even embracing his old and crazy side and experiencing a Funk-like renaissance in the 2000s, finally retiring in 2022. That one November night in 1989, two men sought to prove they were far from "over the hill," and in doing so, lit a fire under each other that would burn for another three decades.