Why Grado Says AEW Star Jeff Jarrett 'Always Lands On His Feet'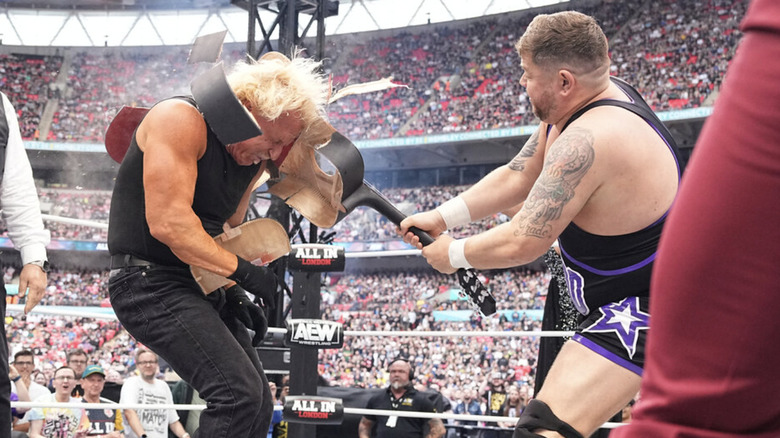 AEW
During a recent interview with "Cultaholic," Grado took some time to discuss his opinion of Jeff Jarrett.
"Jeff is a guy, for who he is, he always — listen — he always lands on his feet," Grado said. "He's been in every stable, he's been in every major promotion. He always manages to pull off — but there's a reason why that is. He's a user. When he went back to TNA, he caught wind of the World of Sport thing, and he groomed me. He chained me up and he tried to snuff a bit at ITV. When we're putting on one of the first TVs for World of Sport, I get it's all business with him. Like they say, it's not show friends, it's show business, and with Jeff Jarrett, that definitely applies to him."
Grado noted that Jarrett is the best bad guy in the business and popped for him calling the fans at Wembley Stadium "wankers" among other names. And while they weren't able to square off at All In, Grado has his sights set on a bout in 2024.
"I have to say, man, next year, Grado vs. Jeff Jarrett. Oh, that would be good," Grado added. "We've never had a match. We were supposed to wrestle each other at the Hyrdo. I'm sure it was supposed to be a heel versus heel match, but it was never announced. Then he signed back to WWE. There were other occasions where it came about that we were gonna wrestle one on one and it never has [happened]... I want to pin him one, two, three. I want to go to Cagematch and see 'Grado defeats Jeff Jarrett in eight minutes' because that's all I need and that's all I've got. I think it would be massive."
If you use any quotes from this article, please credit "Cultaholic" with a h/t to Wrestling Inc. for the transcription.