AEW All In Is One Of Only Eight Shows To Hit This Benchmark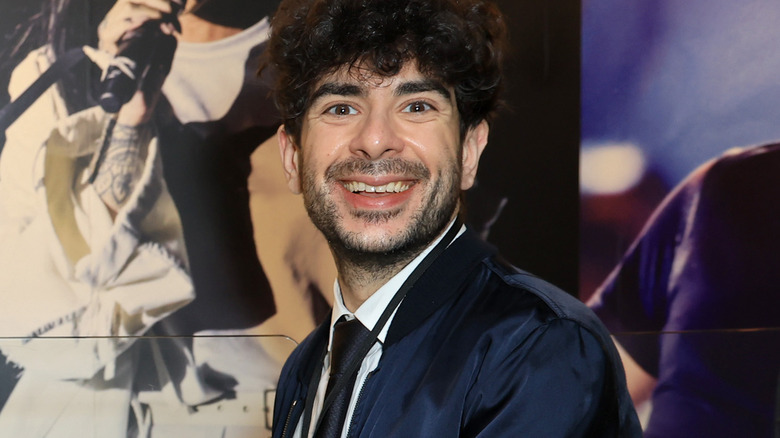 Leon Bennett/Getty Images
Last weekend, AEW revealed that they had shattered the record for the most paid fans at a professional wrestling event, as All In's total paid attendance was 81,035. In addition, the company also announced that the event produced a gate revenue of more than $10 million, which now makes it one of only eight shows to hit that benchmark. According to the Wrestling Observer Newsletter, the other seven shows are all previous WWE WrestleMania shows. In further analyzing this exclusive list, WON noted that WWE typically includes the service charges from the ticket distribution platforms in their gate reports, which slightly inflates their numbers. AEW usually excludes those service charges in their announcements, although it appears they incorporated them for one of their recent pay-per-views.
Outside of All In, seven WrestleManias have soared above the $10 million gate revenue mark, with WrestleMania 32 recorded as the highest-grossing single premium live event in WWE history. That spectacle, which took place at AT&T Stadium in Arlington, Texas, reportedly grossed $17.3 million with service fees included. Without those charges, the estimated gate is $15.9 million. WrestleMania 35 at MetLife Stadium generated similar numbers — $16.9 million with service charges, and approximately $15.5 million without them. The following shows also hit the $10 million benchmark: WrestleMania 29, WrestleMania 31, WrestleMania 33, WrestleMania 34, and night two of WrestleMania 39, which featured Cody Rhodes vs. Roman Reigns in the main event.
As of this writing, WON calculates that WrestleMania 40 in Philadelphia has driven a gate close to $19.85 million for two nights of action so far. With this PLE still seven months away, both nights are expected to surpass the $10 million mark, respectively.