Why Tony Khan Will Always Regret Not Getting To Know The Late Terry Funk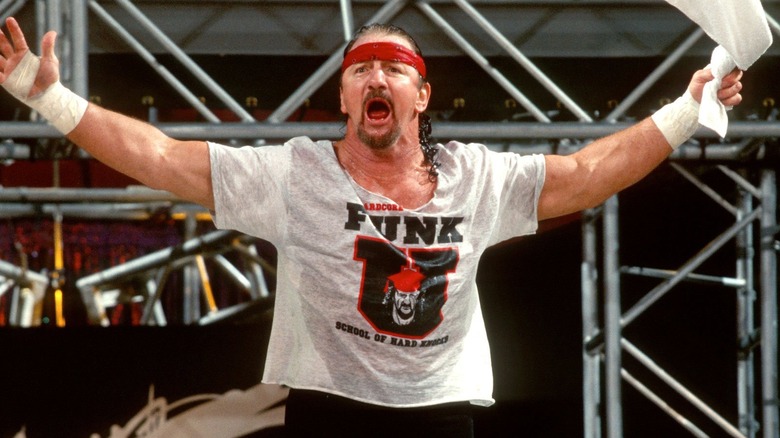 WWE
The wrestling world lost one of its most beloved legends when Hall of Famer Terry Funk died on August 23. Funk, of course, was instrumental in helping to elevate Extreme Championship Wrestling in the 1990s, a brand that AEW President Tony Khan credits as one of the staples of his childhood wrestling fandom. Outside of ECW, Khan was also an avid viewer of World Championship Wrestling, which is where he first saw Funk in action.
Unfortunately, Khan never had the chance to establish a bond with Funk. During the AEW All Out media call, Khan shared his perspective on Funk's contributions to the wrestling world. In retrospect, Khan wishes he dedicated more time to his engagements with Funk.
"I'm a huge fan of Terry Funk," Khan said. "I first saw Terry Funk when I was eight years old on Great American Bash 1989: [The] Glory Days, and I thought it was some of the greatest stuff I'd ever seen ... I remember going to video stores all over looking for more of those '89 WCW pay-per-views because I just had to see more of this guy. He is one of the greatest wrestlers I've ever seen in my life. I didn't get a chance to know him personally in these later years. It was something I was interested in. It's one of those things I'll always regret not having that chance. Tommy Dreamer mentioned he wanted to get us together at times, but there were a couple times where he tried to put it together, and it just didn't work out."
Keeping Funk's Legacy Alive
As Khan continued, he referenced a recent interview from Sports Illustrated, in which Jon Moxley said today's generations could learn a lot from Funk. In echoing Moxley's sentiments, Khan also added that many performers, including Moxley, are keeping Funk's legacy alive. 
"[Funk] will be one of those great names that lives forever in this business," Khan said. "And certainly, I was very, very sad to hear that he passed away, and [I'm] thinking of his family. And to me, he's personally one of my heroes."
While Khan's parents weren't the biggest fans of professional wrestling, they recognized that their son was, so upon reaching his academic goals, Khan's parents rewarded him with tickets to various wrestling events, which included trips to ECW.
"That's why I achieved my academic goals, frankly, is because I wanted to go to ECW," Khan said, "and Terry Funk is a huge part of that legacy too. But really across all of pro wrestling, I think Terry Funk leaves a major, major footprint and the biggest of shoes to fill."
If you use any quotes from this article, please credit the AEW All Out media call with a h/t to Wrestling Inc. for the transcription.