Trish Stratus Receives Standing Ovation Following WWE Payback Match With Becky Lynch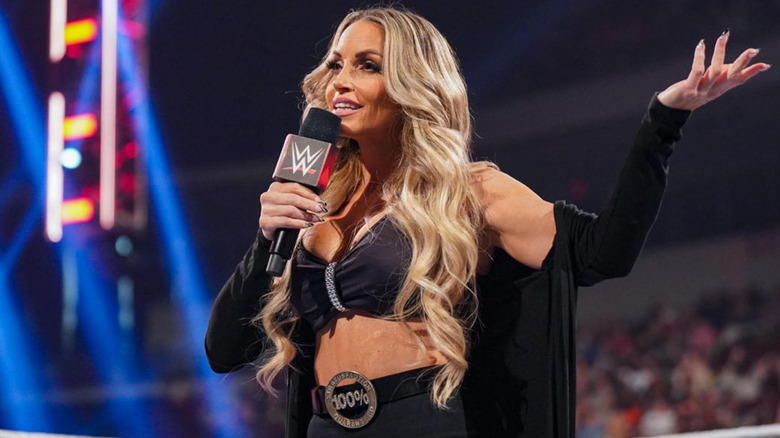 WWE
As the saga between Trish Stratus and Becky Lynch seemingly came to an end, the WWE Universe issued a heartwarming thanks to Stratus after her valiant performance at WWE Payback. During the Saturday night premium live event, Stratus battled Lynch inside a steel cage — a match that later generated multiple "This is awesome" chants. Despite Stratus' added assistance from Zoey Stark, it was Lynch who emerged victorious after hitting Stratus with a top rope Manhandle Slam to gain the pinfall. Stratus' efforts didn't go unrecognized though, as the Pittsburgh audience delivered a standing post-match ovation.
In a video posted to WWE's YouTube channel, fans in attendance can be seen serenading Stratus with "Thank you Trish" and "You still got it" chants after the steel cage had been fully lifted. Stratus, of course, was visibly emotional as she exited the ring. Upon her walk up the entrance ramp, Stratus acknowledged the ovation with her signature pointing pose and a bow to the audience before returning to the backstage area.
While Stratus has garnered gratitude from the WWE Universe, her protégé, Zoey Stark, displayed quite the opposite reaction last night. Following Stratus' loss to Lynch, Stark and Stratus began arguing in the ring, which led the WWE Hall of Famer to slap Stark in the face. In response, Stark shut the cage door and nailed her mentor with a Z-360. With Stratus now laid out on the mat, Stark threw away her "Thank you Trish" t-shirt, signaling the end of their on-screen partnership.