Dark Order Calls AEW All Out ROH Tag Title Match Result 'BS'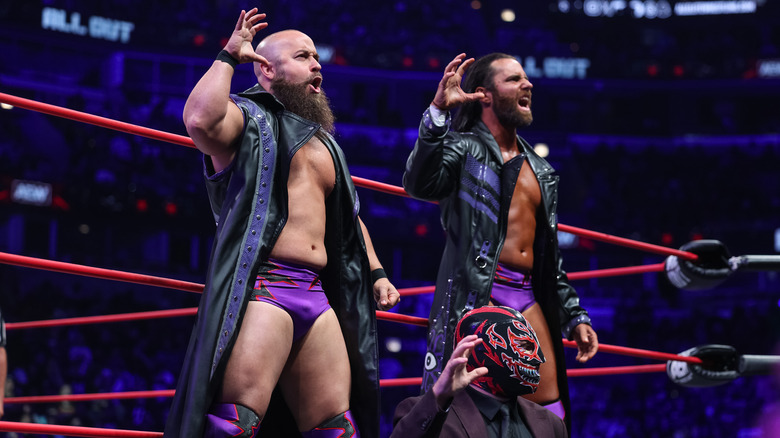 AEW
AEW World Champion and Ring of Honor World Tag Team Champion MJF battled through an apparent neck injury on Sunday, as he and his tag team partner Adam Cole defeated Dark Order's John Silver and Alex Reynolds at All Out to retain their tag titles. While most of the Chicago crowd was thrilled with the comeback, Dark Order cried foul in a backstage interview.
"MJF got taken out, which we did, and they just allow him to come back? I don't know what the AEW officials, I don't know what the ROH officials are thinking," Silver began.
"This is BS!" Reynolds shouted, interrupting his comrade. "We were flat-out screwed tonight. We deserve those ROH Tag Team Titles, not Adam Cole and MJF. MJF hasn't even competed in Ring of Honor."
Evil Uno chimed in, calling the decision "bull s***!" and claiming that AEW has held Dark Order down since the beginning of their tenure in the company.
"No more!" Uno said, adding that Silver, Reynolds, and Dark Order are too good to be on the losing end of a big title match like that again.
"The injustice will not stand anymore," Uno continued. "AEW, you've been warned."
Dark Order then furiously stormed off camera.
Silver and Reynolds won the title shot in a battle royal on last Friday's edition of "AEW Rampage," outlasting a hefty number of other teams. Despite using every underhanded tactic in the book, the duo was unable to beat the tag champions, even during Cole's temporary two-on-one disadvantage while officials checked on MJF's injury.