Chad Gable Teases Rematch With GUNTHER After Intercontinental Title Loss On WWE Raw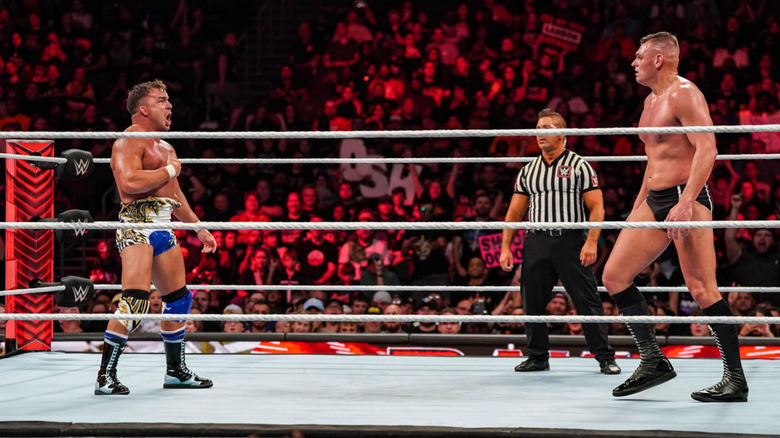 WWE
Chad Gable's loss to GUNTHER in front of a loud and passionate crowd in Charlotte, North Carolina evoked real emotions from his family sitting in the front row, with his daughter bursting into tears on live television. At that moment, it felt like the saga between GUNTHER and Gable was all but over, especially as GUNTHER prepares to march ahead as the longest-reigning Intercontinental Champion in history. 
Despite the loss, Gable seemed in high spirits in his post-match interview, insisting that he did not blow his big opportunity to dethrone "The Ring General" in front of his family and friends.
"Amateur wrestling has taught me a lot about dealing with these huge opportunities," Gable began. "Like, having these big character-building and breakout moments at your disposal — you gotta make the most of them. And then, when something like tonight happens, it just slips through your fingers. It's happened to me before in amateur wrestling, but I learned to persevere, and kind of find my way through it and realize that's not the end.
"I promise you, in this situation, it's the same thing," Gable added.
The Alpha Academy leader stressed that he has "a legacy to protect," and watching GUNTHER mock his daughter in the front row made him realize that it's time for him to tune out the "Shoosh" and the fun stuff, and channel the killer inside of him. He ended the interview by vowing to take the Intercontinental Championship from GUNTHER.
"I swear to everybody, and on myself and my career, that's not the end. I'm taking the championship. I want him [GUNTHER] to keep it as long as it takes me to get a rematch because I'm coming back for it, and I swear to god, I'm winning that championship," Gable concluded.
EXCLUSIVE: Following the conclusion to tonight's #ICTitle main event on #WWERaw, @WWEGable explains why this has become even more personal for him. pic.twitter.com/4WwdW2LDPL

— WWE (@WWE) September 5, 2023