Eric Bischoff Comments On Championship Belt Deal Between WWE And The NFL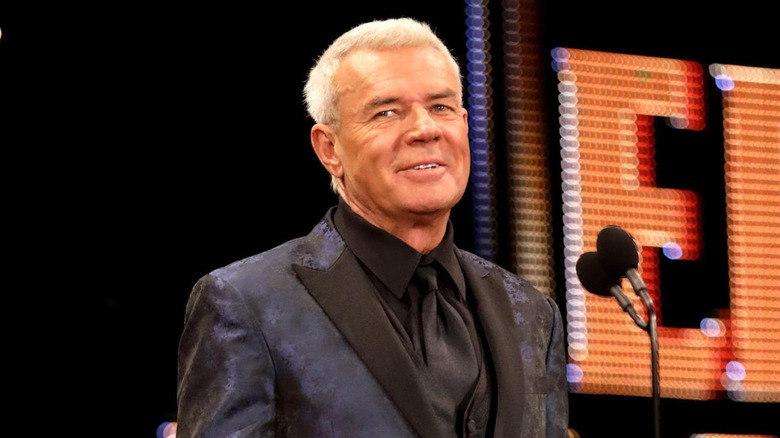 WWE
Professional wrestling and professional sports have always gone hand-in-hand. From the likes of Dennis Rodman and Pat McAfee becoming featured acts on weekly television over the years, to megastars such as Patrick Mahomes celebrating with replica WWE championship belts, and Travis Kelce using the phrase 'jabroni' in a post-game interview, the crossover has always been there in the United States.
WWE has now taken it to the next level by releasing special WWE title belts for 31 out of the 32 teams in the NFL, celebrating the connection between the league and the sports entertainment juggernaut. On the latest episode of "Strictly Business," WWE Hall of Famer Eric Bischoff praised the move as a forward-thinking one and believes it can take the pro wrestling business to the next level.
"I'm sure from a financial point of view, of course, they're gonna make a ton of cash," he said. "This is the type of deal ... this is the kind of move that can affect the business overall. The reason I feel that way is because it is one more door that's coming down, one more big high-profile step. By becoming more mainstream, it opens the door to other sponsors and advertisers ... that will affect the business both for WWE and for AEW."
The only team that has been excluded from the new WWE marketing campaign is the Jacksonville Jaguars — owned by the family of AEW President and CEO, Tony Khan — which prompted Bischoff to take a sly dig at the franchise, claiming they "don't have to worry about winning a championship" despite making the playoffs in 2022. The custom belts are priced at $550 per item and part of WWE's partnership with Fanatics. 
If you use any quotes from this article, please credit "Strictly Business" with a h/t to Wrestling Inc. for the transcription.