Kevin Nash Believes WWE Blew It Not Putting Bray Wyatt Over Undertaker At WrestleMania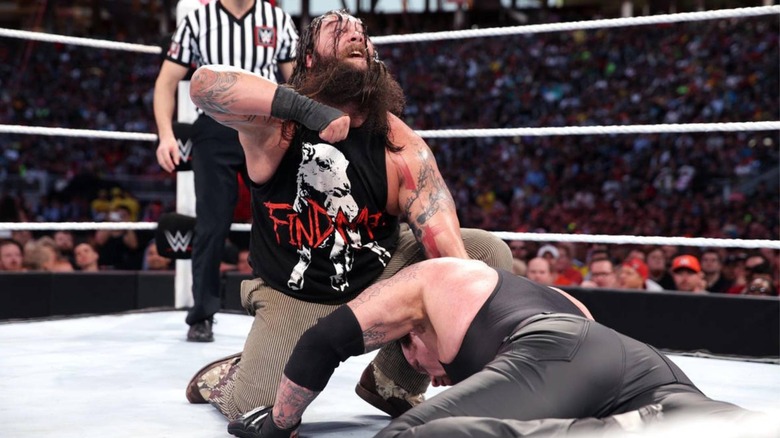 WWE
Bray Wyatt left an indelible mark on the professional wrestling industry and had one of the most iconic runs in the history of the business with his work as leader of The Wyatt Family, and as the horror movie-esque Fiend character becoming integral parts of WWE's programming over the past decade. 
Throughout his career, Wyatt was constantly compared to The Undertaker, and at WrestleMania 31, the pair stood toe-to-toe in front of a packed house in San Jose, California, with the Hall of Famer coming away with the victory.
On a recent edition of "Kliq This," Kevin Nash criticized the decision by the company to have Wyatt lose to The Undertaker.
"He was on a different plane ... they were so different," he said. "It was a believable gimmick and the thing was, and I will say it to the day I die –- if you weren't gonna put over Bray at WrestleMania against The Undertaker ... I was at that show and it was time. He was the chosen one and it would have put him over the top and he didn't win. I think his push kind of took a s**t. You could have raised the stock in Bray."
Both characters remained intertwined over the years, with "The Deadman's" most recent appearance on television coming on the 30th anniversary edition of "WWE Raw" during a segment between Wyatt and LA Knight. The moment shared between The Undertaker and Wyatt appeared to be a proverbial "passing of the torch" from one generation to the next. But, unfortunately, it would be one of the final times Wyatt was seen on-screen before his death. 

If you use any quotes from this article, please credit "Kliq This" with a h/t to Wrestling Inc. for the transcription.