Eric Bischoff Goes Off On Dave Meltzer For Purported Role In AEW-CM Punk Debacle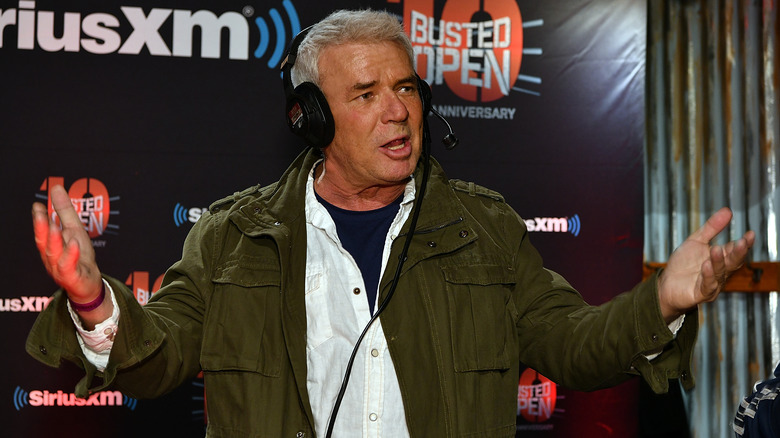 Slaven Vlasic/Getty Images
Eric Bischoff thinks Dave Meltzer is up to his usual tricks. On the latest episode of "83 Weeks," Bischoff and his co-host Conrad Thompson dissected recent comments by Meltzer, who said he might have gone too easy on CM Punk when reporting his issues with The Young Bucks, Kenny Omega, and Hangman Page. Thompson suggests Meltzer has been getting information from The Bucks, while Haus of Wrestling's Nick Hausman is getting the CM Punk side of the situation.
"I have spent a lot of time shredding — exposing — Dave Meltzer for what he is. I'm sick of hearing myself say it, but Dave Meltzer is horrible — always has been — for the wrestling business," Bischoff said. He noted that he doesn't take either side seriously, but has been a long-outspoken critic of Meltzer specifically. 
"I do believe that Meltzer is horrible for this industry, his behavior, his personality, the flaws in his character," Bischoff continued. "For whatever reason, Dave seems to thrive by spreading 'rumor,' 'innuendo,' 'lies,' call them what you want, and usually does so in favor of people he either has a relationship with or wants to have a relationship with. I didn't believe any of the nonsense that I heard out of Dave Meltzer with regard to CM Punk." 
Bischoff believes that Meltzer and his sources are a plague to the business. "They were adding fuel to the fire. I firmly believe that." The Hall of Famer says there's a way to handle things and Punk didn't handle the backstage drama properly. He also thinks Tony Khan made a mistake bringing Punk back after his behavior at the All Out media scrum in 2022. 
"I understand how it can happen," Bischoff said, "when you've got a piece of garbage like Dave Meltzer constantly stirring things up and presenting his side." According to Bischoff, this behavior is no different than Meltzer's behavior over the last 30-40 years, which is why the former WCW President has repeatedly made comments about Meltzer in the past.