AEW's Saraya & Emi Sakura Go At It On Social Media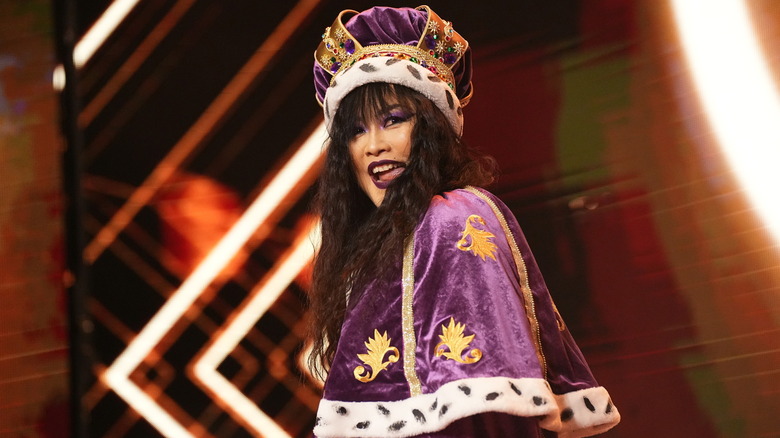 AEW
At All In, Emi Sakura recorded a video of herself, weeping, emotional, and crushed as Saraya entered Wembley Stadium to the bombastic tones of Queen. Sakura, inspired by Freddie Mercury, wished that she had been the one to make an entrance in front of over 80,000 people at Wembley. After winning the AEW Women's World Championship, Saraya decided to rub salt in Sakura's wound.
"I love being the AEW women's world champion. I'm so awesome," Saraya wrote before adding the hashtag "#BetterThanEmi." Sakura took issue with Saraya's snipe. "Talk sh** and run like a dumb, sucking on her thumb, middle schooler," Sakura responded, "that's about the only thing you're good at." Saraya took this as a compliment about her youth. "Don't be ageist Gemmi," Saraya replied back. "We all get older. You're just..ya know.. past your prime. But I find it inspiring you're still trodding along." Saraya then added the new hashtag "#FreddieHatesEmi," suggesting that Sakura's idol, Mercury, hates Emi from beyond the grave, as he's been dead since 1991.
"I'm just calling you a Stupid, ignorant baby," Emi snapped back. "Coz you act like a spoiled brat, who i wanna spank, as I'm Your Highness." Emi then included the hashtag "BetterThanSaraya." The bitter war of words feels like it could be setting up a match between the two women, though Sakura might have a long climb to title contention after her loss to AEW TBS Champion Kris Statlander on "AEW Dynamite." Saraya will also have her hands busy with the winner of an upcoming four-way match to determine her challenger at "AEW Grand Slam."