How Tony Khan Helped Get AEW Talent To Dynamite After Windham Rotunda's Funeral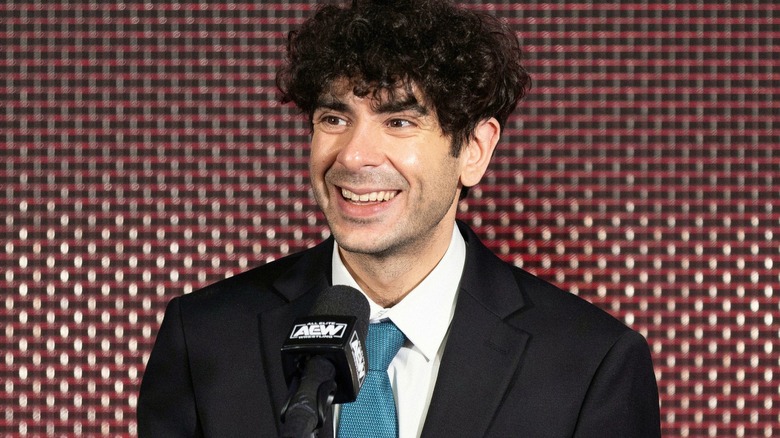 Leon Bennett/Getty Images
Following the unexpected death of Windham Rotunda, family, friends, and former colleagues gathered to honor the life of the man wrestling fans knew in the ring as Bray Wyatt. While the recent hurricane hitting Florida may have caused a week's delay, funeral services for Rotunda officially commenced on this past Wednesday –- the same day many AEW stars were scheduled to fly into Indianapolis for an "AEW Dynamite" taping. 
Fortunately, Tony Khan was extremely understanding and accommodating in the situation. On the latest episode of "The Extreme Life of Matt Hardy" podcast, Matt Hardy revealed that Khan ensured that those wishing to attend Rotunda's funeral were able to do so while also fulfilling their "Dynamite" commitments later in the day. 
"Big shout out to Tony. He took care of everybody really good. He sent a jet down there and carried all the AEW talents up to TV in Indianapolis," Hardy said. "I was very grateful for that and definitely appreciated him. Once again, just showing how good hearted of a human being he is. He really made it work out, so that everyone that wanted to attend could attend."
Hardy was a friend and former tag team partner of Rotunda's. In the wake of Rotunda's death, Hardy recounted their unique Ultimate Deletion match in WWE — including what that experience was life for his oldest son who ended up with Bray Wyatt's signature lantern as a parting gift. For gestures like that, Hardy will always remember Rotunda as a person with a "big heart."
If you use any quotes from this article, please credit "The Extreme Life of Matt Hardy" with a h/t to Wrestling Inc. for the transcription.