Fans Pick 'Wyatt Family Leader' As Their Favorite Version Of Bray Wyatt In WWE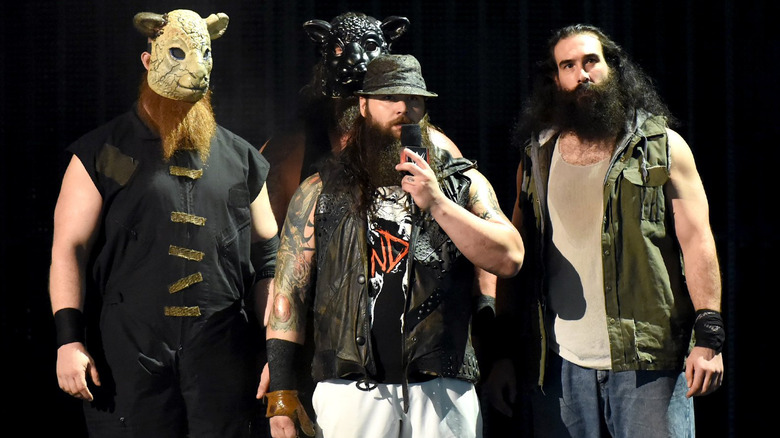 Gary Gershoff/Getty Images
The wrestling world continues to mourn Windham Rotunda, WWE's Bray Wyatt, following his death at just 36 years old last month. He is widely regarded as one of the most creative minds in wrestling, having found success throughout a career of many personas, from The Fiend to the Firefly Funhouse. But it is another of Bray's characters that has captured fans' hearts. 
In a poll conducted by Wrestling Inc., 62.6% of respondents said they preferred when Bray was the patriarchal leader of the Wyatt Family faction. Next up was the masked villain, The Fiend, with 23.2%, followed by the sinister yet jovial Firefly Funhouse Wyatt with 11.7%. Interestingly, Wyatt's latest iteration, which saw him work with brother Taylor Rotunda (Bo Dallas) as Uncle Howdy, scored the fewest votes at 2.5%. 
Windham first appeared on TV as the Nexus' Husky Harris, before a return to developmental and subsequent return as Wyatt, leader of the Wyatt Family. The faction debuted in 2013 and was comprised of Wyatt, the late Brodie Lee (Luke Harper), and Erick Rowan. But throughout their tenure, they would later welcome Daniel Bryan, Braun Strowman, and Randy Orton into their ranks, all at different times. Wyatt won both the WWE World and Tag titles while backed by the Wyatt Family, standing across from the likes of John Cena, Roman Reigns, and The Undertaker. He was repackaged during a feud with Matt Hardy in 2018, drawing a close to the Wyatt Family gimmick.