Tommy Dreamer Praises Impact: 'It's Wrestlers Running A Wrestling Company'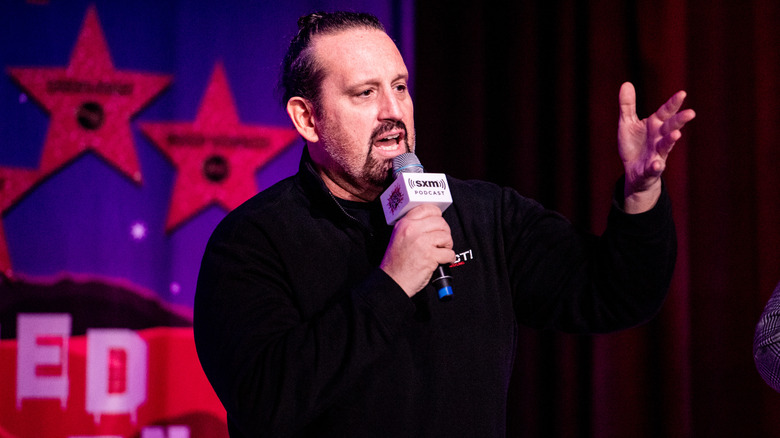 Timothy Norris/Getty Images
Tommy Dreamer has graced the halls of many wrestling promotions throughout his career. In the present day, Dreamer finds himself as a semi-regular fixture and the Digital Media Champion in Impact Wrestling. During a recent appearance on "Under The Ring," Dreamer surveyed the current landscape of Impact Wrestling, which he believes is run through a team-oriented mindset.
"You have a lot of hard-working men and women behind the scenes as well. It's wrestlers running a wrestling company, and it's from different aspects of the industry," Dreamer said. "That's a big key because everybody who's helping behind the scenes gets it. You get the wrestlers' point of view and yes, you want more, or you understand the trials and tribulations of travel or any other thing that pops up that a lot of people, or in a corporate world, they don't understand those things. Everybody having something on the show, a storyline, I think is always key or contributing to your show. I look at it very much as a team atmosphere."
While certain talent may not be at the top of the card, Dreamer insists that every performer plays an important role in the production and growth of the company. Several of those talents were also honored at the tapings for Impact's milestone 1000th episode that is set to broadcast on Thursday, September 14. For this special occasion, Impact invited several alumni, including Awesome Kong, Team 3D, Gail Kim, to participate in matches and other festivities as a way to blend the worlds between the current and former Impact Wrestling talent.
If you use any quotes from this article, please credit "Under The Ring" with a h/t to Wrestling Inc. for the transcription.