Grayson Waller Recalls Being In The Ring With This WWE Star As 'Surreal'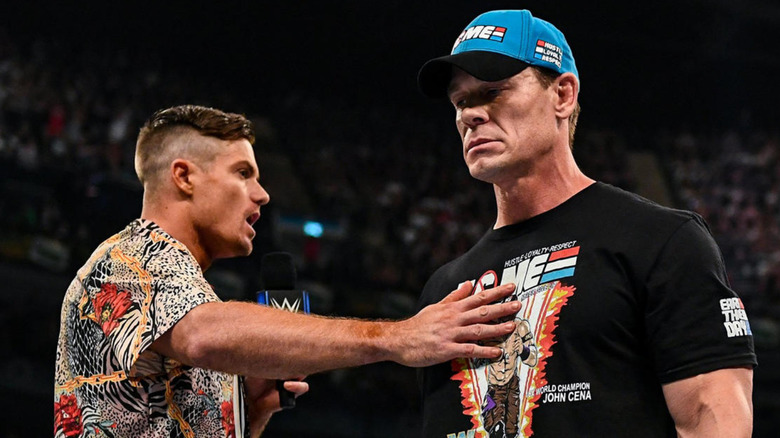 WWE
Grayson Waller has had the fortunate experience of sharing the ring with a few WWE legends this year, including Edge, Rey Mysterio, and John Cena. During a recent appearance on WWE's "After the Bell" podcast, Waller reflected on the particular moment when he encountered 16-time world champion John Cena at WWE Money in the Bank in July. 
Though their interaction ended in Waller getting nailed with an Attitude Adjustment, the recent "WWE NXT" call-up described the moment as "surreal."
"Obviously, being a wrestling fan growing up, John Cena is, as people are saying now: the greatest of all time. So being across from him is wild, especially in the O2 [Arena in London]," said Waller. "That arena was sold out. You guys know how those English fans are –- that's a different vibe. But for me, personally, these are the places that I expect myself to be. When I got called up, this is where I wanted to be. 
"So, when I got in there with John, I didn't look at it as, 'Oh this a huge opportunity for me, I get to be across [from John Cena].' I'm not a fan. I don't want his autographs, I don't want his merch. My way to learn from John isn't by sitting backstage with him and kissing his ass. My way to learn from John is being across from him and going against him, basically."
While Waller is fond of Cena, he felt he needed to approach the situation just like he would for any other opponent in WWE. Had Waller entered the ring with a fan-first mindset that night, he believes his Money in the Bank performance wouldn't have been memorable.
If you use any quotes from this article, please credit "WWE After The Bell" with a h/t to Wrestling Inc. for the transcription.