Grayson Waller On Sharing WWE Ring With Edge During Main Roster Debut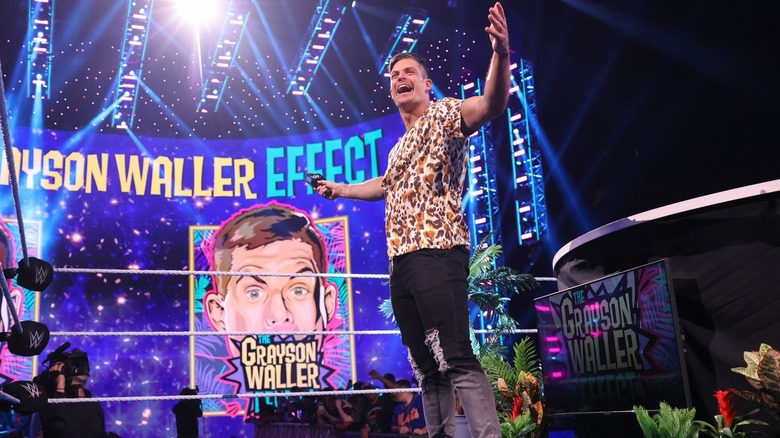 WWE
As Wade Barrett frequently points out on Friday nights, it's getting harder and harder to hate Grayson Waller. Sure, you can still dislike him to a degree based on his arrogance and his heinous actions of the past, particularly toward the Gargano family, but the WWE Universe might have to start respecting him a little bit. After weeks of hosting The Grayson Waller Effect, the brash, outspoken Aussie made his main roster in-ring debut on the July 7 episode of "Smackdown." But it wasn't just any match. He faced a returning Edge in the main event at Madison Square Garden. And as you can expect, Waller hasn't shut up about it.
On "WWE's The Bump," Waller discussed his feelings on making his debut against a beloved WWE Hall of Famer. First, he declared that he probably had "the biggest week in the history of WWE for one performer." And again, it's hard to argue with him as he interviewed internet sensation Logan Paul on the June 30 "SmackDown," went on to the O2 Arena in London, England, and verbally jousted with John Cena at Money in the Bank, and finally went one on one with "The Rated R Superstar." And to top it all off, he did it as he was recovering from a broken leg, which he admits gave Edge a slight upper hand.
Cause & Grayson Waller Effect
WWE
"It's surreal," he said. "You think about these things for a long time and then all of a sudden it's happening ... Last time I was in a ring, I broke my leg against Carmelo Hayes. So this performance in the main event of Madison Square Garden, I did it barely two months after breaking my leg. Congrats, Edge. You beat 60-percent Grayson Waller. I'd love to see what you can do against 100-percent Grayson Waller because I guarantee that spear isn't enough. He wasn't ready for what's in my arsenal. You can even see the look on his face a few time. He was surprised. I don't think he was ready for what I had."
As humble as he remained at this point, Kayla Braxton asked Waller about how his inner fan felt about all of these recent accomplishments. He responded by saying that those days are long behind him. Although, a moment of sincerity did shine through as "The 21st Century Success Story" admitted that he appreciated the respect given to him by a grizzled veteran of the business.
A Matter Of Respect
"I'm sure as a ten-year-old when I was a fan, that would have been a huge moment, but for me, I'm not a fan anymore," explained Waller. "Everyone else has got all these action figures and all these things. That's not me. But personally, I think a lot of people say a lot about Grayson Waller because I talk. I have the talk show and I talk a big game, but the thing is that every time I get in the ring, I back it up. And for someone like Edge to basically tell the world he's as good as he says he is, that meant a lot. It wasn't from a fan perspective that it was a cool moment, it was from a professional perspective that someone who has done so much in this business recognized that I talk a lot, but I back it up every time."
It's amazing to see how the up-and-coming star manages to walk the line between his character and his true self so expertly. Unlike some heels who choose to blur the lines between wrestling and reality by being a jerk all the time, Waller shows a more realistic and believable approach that has the potential to take him far in his career.
If you use any of the quotes in this article, please credit "WWE's The Bump" with an h/t to Wrestling Inc. for the transcription.