WWE President Nick Khan Addresses Potential Return Of Stephanie McMahon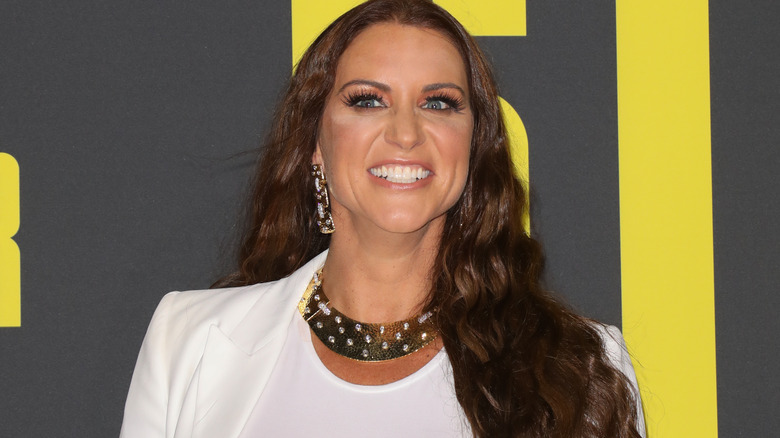 Paul Archuleta/Getty Images
Stephanie McMahon resigned from her position as WWE's co-CEO back in January, and there haven't been any rumblings of her potentially returning to the company since then. However, during a recent interview with "The Bill Simmons Podcast," WWE President Nick Khan discussed the likelihood of her rejoining in the wake of the WWE-Endeavor merger being finalized. That being said, fans might be waiting a while if they expect to see McMahon become part of the new setup.
According to Khan, McMahon wanted to take a leave of absence for an extended period of time, but she returned at the behest of Khan and other WWE officials following Vince McMahon's sexual misconduct scandals and short-lived retirement. While Khan wants to work with her again, he doesn't know what McMahon's future plans are.
"I don't know what the future holds, but with Vince [McMahon] as the Chairman of the company, Paul [Levesque], the Head of Creative. Me and the role that I'm in, you know, [if] Stephanie wanted to do something with WWE, of course WWE would embrace that. The WWE Universe would embrace that."
Khan noted that McMahon is focused on other things right now, which might be why she hasn't expressed an interest in returning to WWE as an executive or performer. Furthermore, he believes that she's happy being away from the day-to-day happenings of the sports entertainment promotion.
"I think she's enjoying some time off. And you know the drill — after grinding hard as you've grinded hard, as she grinded hard, take a few months off. She still has school-age children; she and Paul do. I think she's enjoying herself."
If you use any quotes from this article, please credit "The Bill Simmons Podcast" with a h/t to Wrestling Inc. for the transcription.