ECW Star Rhino Explains Why He Had No Problem Adjusting To WWE Locker Room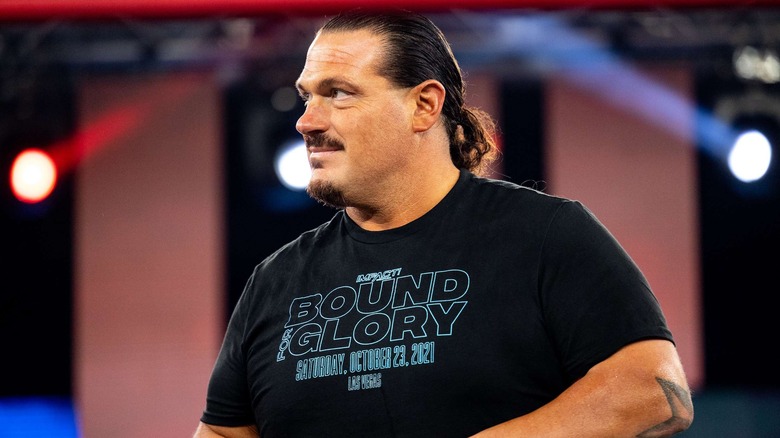 Impact Wrestling
It didn't take long for Rhino to become a household name in ECW shortly after he debuted with the promotion in 1999. By the time ECW closed its doors in 2001, the "Man Beast" had won the ECW Television title twice and became the last man ever to hold the ECW World Heavyweight Championship. All of this prepared Rhino for his first big run with WWE later in 2001, where he would associate with Edge and Christian, and become a member of The Alliance.
On an episode of "The Kurt Angle Show," Rhino stopped by to talk about his career, including his introduction into WWE. Rhino revealed that the transition between leaving ECW for WWE wasn't that tough — despite ECW being a bit crazier than WWE — something he credited to the presence of Paul Heyman and two long-time friends.
"When I went to WWE ... I just fit," Rhino said. "I had Edge and Christian there. Christian came up to me one time, this was after I started ... and Austin and Triple H, they were talking in the cafeteria. They go, 'Oh, I heard we just signed that Rhino guy from ECW. Hopefully, he's not a jerk or whatever.' So basically Christian said, 'Hey, listen, no. He's a good friend of mine, he's a great guy, and he'll fit in well...'" 
"So I had that, too. It was a little adjustment, and then once I got to WWE," he continued, "I noticed every night with guys that were so fine-tuned. A lot of guys in ECW were so fine-tuned, but it felt like I got even better. And then I never really worried about my spot," he added, "because if I went there and I showed up and I worked hard, I knew I would have a good position."
If you use quotes in this article, please credit "The Kurt Angle Show" and provide an h/t to Wrestling Inc. for the transcription