AEW All In Turnstile Count Provided By Local Government Complicates World Record Claim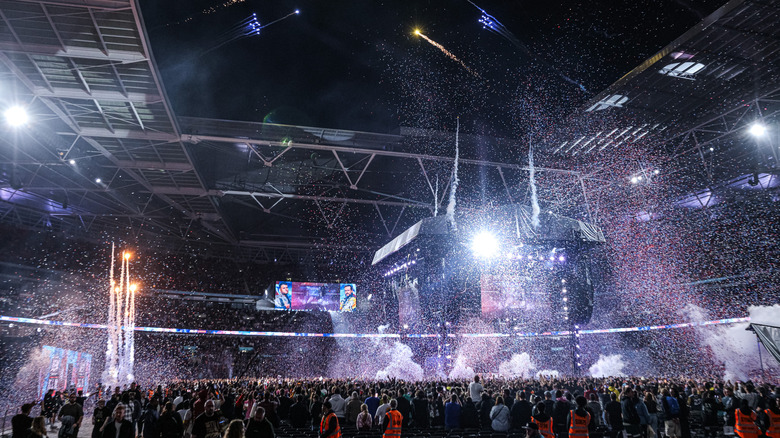 James Gilbert/Getty Images
The U.K. government has thrown a wrench in AEW's celebration of the All In pay-per-view at London's Wembley Stadium, as it appears that the number of people in the stadium was well under the announced paid attendance of 81,035.
According to a Freedom of Information request published on the website WhatDoTheyKnow, the turnstile count for All In was 72,265, meaning the number of fans that passed through turnstiles in Wembley Stadium, putting it not only well under the announced paid attendance number. It is also well below the turnstile count for WWE WrestleMania 32 in Arlington, Texas, which had 80,709 or 79,800 in attendance, depending on who you ask.
According to WhatDoTheyKnow, it is still possible that 81,035 tickets were sold for All In, but the statistics provided by the local government state that the number of fans that actually attended the event was much lower. Wrestlenomics reported that a source in AEW says that the company has a "drop count" which is "about 80% to 90% of the paid attendance or tickets distributed." That would check out as the 72,265 turnstile count is roughly 89 percent of 81,035.
Regardless of the attendance, All In was a financial success for AEW, making millions of dollars for the promotion, but the turnstile count puts a damper on the celebration. Wrestling Observer Newsletter editor Dave Meltzer said that WWE would have a difficult time beating the announced number for All In, but this new data puts WWE back in a position to claim the largest paid attendance in wrestling history for WrestleMania 32.
The largest wrestling audience was at the WCW-NJPW Collision In Korea shows in Pyongyang, North Korea, but attendance was mandatory for the citizens of the totalitarian country and is not representative of any kind of actual business accomplishment.