Jim Ross Opens Up About Working With Paul Heyman In WWE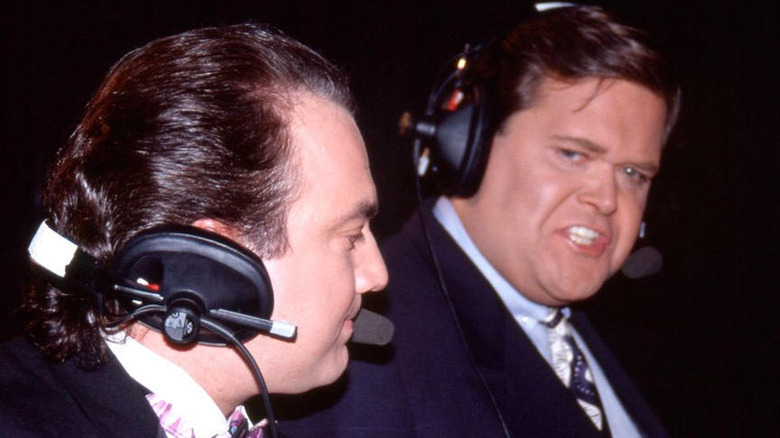 WWE
After Extreme Championship Wrestling folded in 2001, Paul Heyman joined Jim Ross on the "WWE Raw" commentary team for several months. He also briefly called "WWE SmackDown" with Ross and Michael Cole, respectively, that year. During an appearance on his "Grilling JR" podcast, Ross spoke about working with Heyman during that period.
"I've been known to get fired up out there," Ross said. "I tried to stab him with a pencil one time, and that came after I did stab Michael Cole with a pencil, just out of emotion. I apologized a gazillion times over that. 
"We never rose to violence, but there were a lot of heart-to-heart talks after the show because he couldn't stand that and I didn't like doing it, but sometimes you've just got to put your foot down and say, 'No, we can't go there. Here's where you should have cut that off, and I gave you a segway to something else, another topic, and you ignored it. So one thing is perhaps you're not listening,' which sounds very egocentric for me to say. 'You're not listening to me, and I'm JR. What the hell? Who do you think you are, buddy?'"
Ross said when he and Heyman started working together in WWE, the former wrestling promoter would bring out a list of things for them to say, and that threw him off. Ross described Heyman's list as "bulls**t" because it was too canned and too fake. The AEW commentator said that after a while they began adlibbing, and that was when they delivered their best work.
'he did a great job on that show'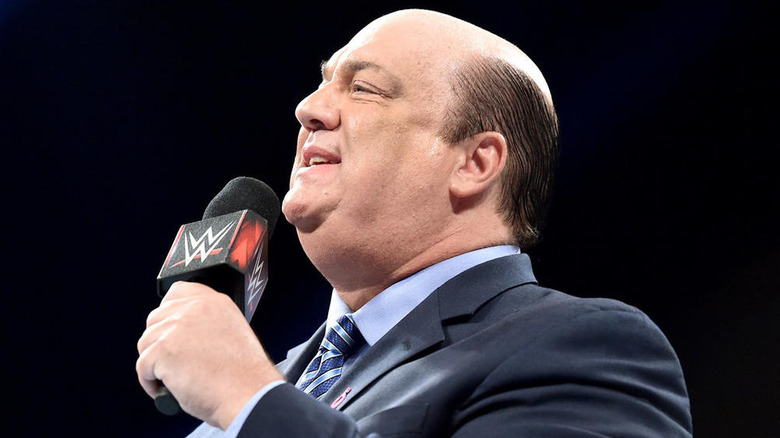 WWE
Heyman became the lead writer for the "SmackDown" brand a few months after the first-ever WWE brand extension. He remained in that position until February 2003. Conrad Thompson, the "Grilling JR" co-host, asked Ross how he felt Heyman led the blue brand creatively. 
"The creative ideas that he came up with speak for themselves," Ross said. "They were strong. Same thing; sometimes you can say, 'Well, Paul didn't play well with others at times' ... He did a hell of a job there, creatively. He just had those same issues. Controlling his emotions and not being divisive. It took him a while to get away from that. I don't know how he is today, I'd say he's probably a lot improved in that regard. He's 58 years old; it's time. 
"But yeah, he did a great job on that show, and he booked it like a territory. He had his six top guys, and he was gonna make sure they were front and center and utilized in a good way. And also, those six guys were pretty damn good."
The wrestlers that were dubbed the "SmackDown Six" during Heyman's run as lead writer for "SmackDown" were the late Eddie Guerrero and Chris Benoit, Chavo Guerrero, Edge, Kurt Angle, and Rey Mysterio.
'I love the fact that we got to work together'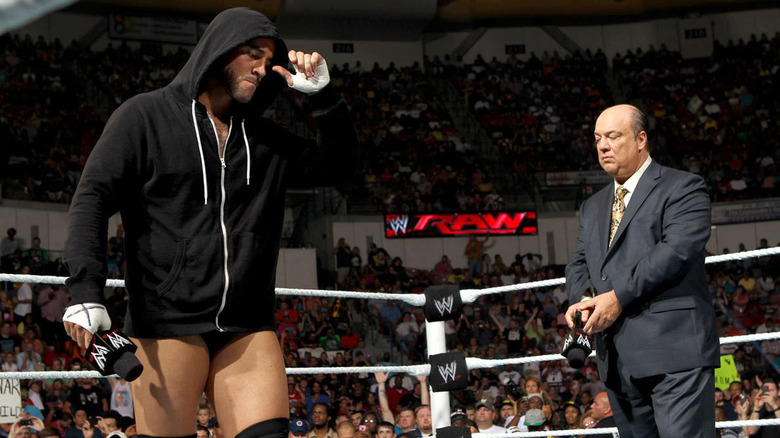 WWE
Heyman would also become an on-screen manager in WWE. He notably managed Brock Lesnar and recently fired AEW talent CM Punk. Heyman is currently a part of The Bloodline stable as the special counsel to reigning Undisputed WWE Universal Champion Roman Reigns. Ross discussed Heyman's impact as a manager.
"The success that Punk had and the success that Brock had would not have been as successful if Heyman was not in the picture," Ross said. "Heyman's the difference-maker. He made those guys special. And what Paul did for Brock Lesnar, I mean, my god, I don't know how much money Brock Lesnar's made for the company, but it's got to be staggering, and that's largely due to Paul Heyman."
Over the years, there have been many legendary on-screen managers in WWE, which Wrestling Inc. ranked, including the late Bobby "The Brain" Heenan, "The Mouth of the South" Jimmy Hart, and the late Sensational Sherri. Ross believes that Heyman might be the greatest of them all. 
"He's the best manager maybe ever," Ross said. "I can see him being compared to [Jim] Cornette. I can see Paul being compared to Bobby Heenan because of his mind, his instincts. His feel for the game is still prevalent in a major way. So he's just absolutely brilliant. I love the fact that we got to work together, and I love the fact we maintained our friendship because it wasn't always easy."
If you use any quotes from this article, please credit "Grilling JR" with a H/T to Wrestling Inc. for the transcription.