AEW World Champ MJF Sounds Off On 'Finally' Being Home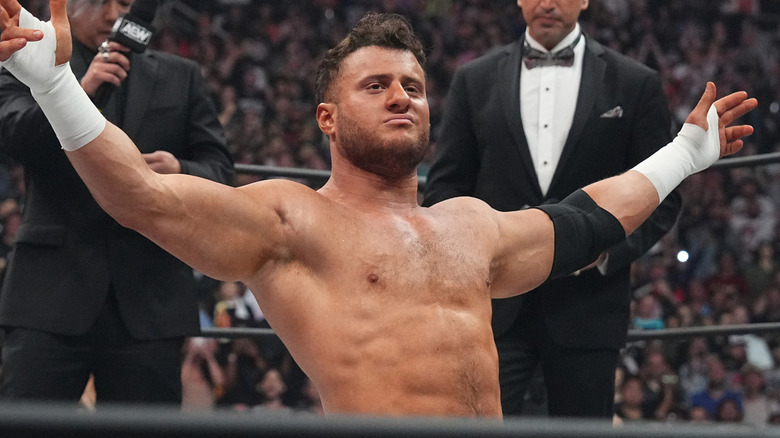 AEW
The AEW World Champion is coming home. MJF appeared on CBS New York to promote Wednesday's "AEW Dynamite: Grand Slam" special at Arthur Ashe Stadium, and the champ did not sugarcoat his feelings about the world outside of New York City.
"Every single week on TBS we do incredible shows with incredible professional wrestling," MJF began, "but all the time I have to go to these godawful states with godawful people but finally I'm home amongst my people, beautiful New Yorkers. I couldn't be happier that we're going to Arthur Ashe."
MJF told the hosts they could expect perfection from him and great wrestling from his fellow members of the locker room.
MJF is set to defend his AEW World Championship against Ring of Honor World Television Champion Samoa Joe. Joe won a tournament to earn the title match, but the bout brings both men full circle, as they both first came into contact with each other in New York City. In 2016, then-"NXT" Champion Samoa Joe was escorted to the ring by security, one of which was played by the young future AEW Champion. Joe shoved MJF, sending him into a wall, a slight which MJF has held onto to this day, recently bringing it up in a verbal showdown on "Dynamite."
While AEW's "Grand Slam" shows in Arthur Ashe have become a tradition over the past three years, this will mark the first time that MJF will defend the AEW World Title in the legendary tennis stadium, giving him a homefield advantage.