AEW Star Chris Jericho Talks About Channeling Terry Funk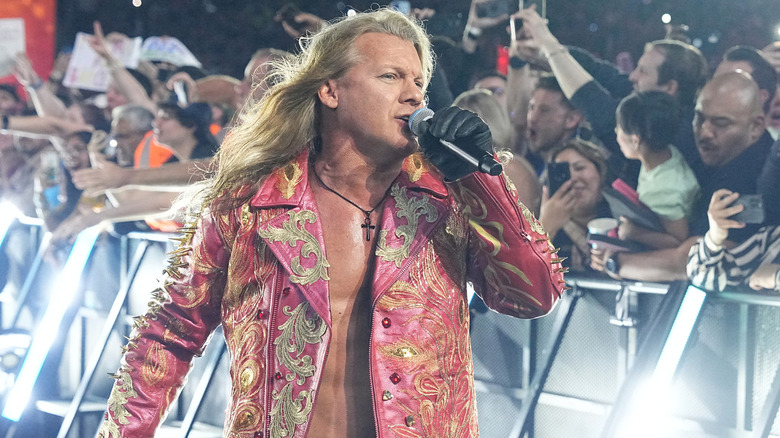 AEW
When the fledgling Eastern Championship Wrestling was trying to re-establish itself as Extreme Championship Wrestling, the promotion did so with the help of wrestling legend Terry Funk, who brought some legitimacy to it, while still gelling with its forward-thinking ethos. Now, 30 years later, Chris Jericho is adhering to Funk's philosophy to help AEW. On "Talk Is Jericho," the former AEW World Champion recounted seeing Funk wrestle in a small venue for Smoky Mountain Wrestling.
"Terry was wrestling 'Bullet' Bob Armstrong," Jericho began. "I remember he threw all the chairs and Bullet Bob was down, and when he climbed up on that rope 'No f**king way Terry Funk's gonna do a moonsault,' and there he goes." Jericho was gobsmacked, positing that it might've been one of the first moonsaults Funk ever did. "I remember thinking 'What possessed Terry Funk in 1994 — I think he was 50 — to do a moonsault on this show?'" Jericho said. "Because it wasn't televised, it wasn't WrestleMania." Jericho believes that Funk didn't have to do any of the more death-defying moves that he did, especially at his advanced age, but Funk's freedom from doubt and fear inspired Jericho.
"To this day, I'm doing some of these things ... where it's like 'Terry Funk would do it, so why not?'" Jericho explained. Jericho isn't the only one drawing comparisons between himself and the late WWE Hall of Famer. AEW broadcaster Jim Ross compared Jericho, as well as fellow legend Sting, to Funk for their willingness to give to younger generations.