Backstage Details On Vince McMahon's Presence At All-Staff WWE Meeting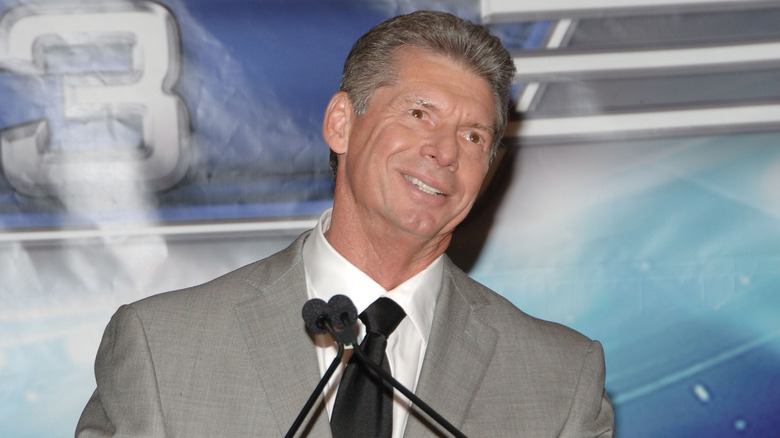 Jamie Mccarthy/Getty Images
Additional behind-the-scenes information has come to light regarding the WWE all-staff meeting from yesterday, including Vince McMahon's physical health following his recent surgery.
"PWInsider" has stated that Tuesday's meeting was led by not only McMahon, but also TKO Group Holding CEO Ari Emanuel, WWE President Nick Khan, and Paul "Triple H" Levesque.
Several WWE employees revealed to "PWInsider" that McMahon was using a cane to walk up the stairs and get to the podium. The news isn't surprising since back on July 21, the 78-year-old underwent major spinal surgery.
The sources also said that Vince was very "in his moment." On one occasion, when he received no applause after declaring, "I'm Vince McMahon, d***n it!," he proceeded to remind the audience, "This is when you are supposed to clap." Upon finally receiving applause from the group of employees, he allegedly commented that they were "learning." McMahon was also said to be the only executive who didn't mingle with the employees after the staff meeting.
The meeting took place at the WWE headquarters in Stamford, Connecticut and it was recorded with a full crew. The old "WWE Raw" set was also used for the executives to come out of. The staff meeting happened after Endeavor laid off more than 100 WWE employees for cost-saving reasons after the WWE and UFC merger was finalized on September 12. 
Those who were laid off were not WWE Superstars, though one stand-out name was Dana Warrior, who worked in WWE's outreach department, and had previously worked in creative for two years.