Booker T Not Surprised By WWE Performer's Release, But Didn't See It Coming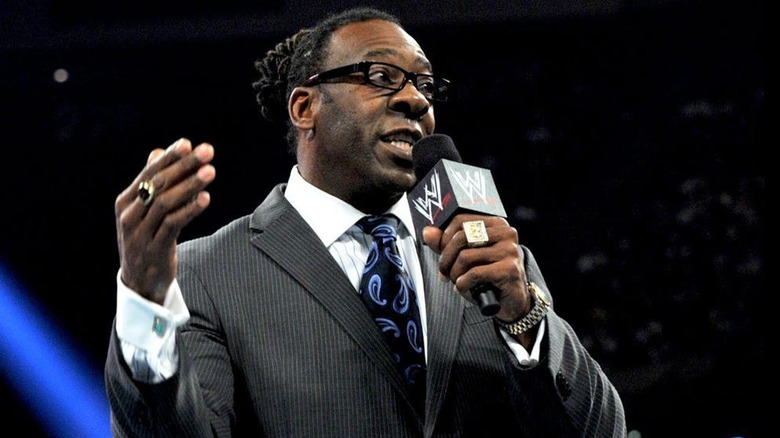 WWE
WWE released a plethora of wrestlers from both the main roster and "WWE NXT" this week, and while every cut was unfortunate to see, Mustafa Ali's took most people by surprise as he was due to face Dominik Mysterio at NXT's No Mercy next week for the North American Championship. However, on the latest "Hall Of Fame," Booker T admitted he wasn't surprised by that.
"Did I see it coming? No. But, I'm not surprised by anything that happens when it comes to guys getting released," he said. "It's just like Mandy Rose, I didn't see that coming, but when it happens, it happens quick. It's always been that way in this business as far as guys being on that list of guys getting released."
Ali has had a rollercoaster career in WWE, from being a key part of "205 Live" to getting a big main roster push against the likes of Randy Orton and Daniel Bryan. However, he also suffered some difficult periods as well such as his role in Retribution, with his career suffering from going up and down too much.
"I didn't see Mustafa's name come up or anything, it wasn't like, oh this guy is rocking the boat, I didn't see that or anything," he said. "But you never know what's going on behind the scenes, as well as with this merger they're going to be looking to trim a lot of fat, do we really need these guys?"
Ali may not have been involved in any public scandals, but he did request his release from the company in 2022. That was denied at the time, but with WWE deciding now was the time to make cuts, Ali was let go as he will now focus on what is next.
If you use any quotes from this article, please credit "Hall Of Fame" with a H/T to Wrestling Inc. for the transcription.