WWE NXT Results 9/26- Global Heritage Invitational Final, Dijak Vs. Thorpe, Contract Signing, More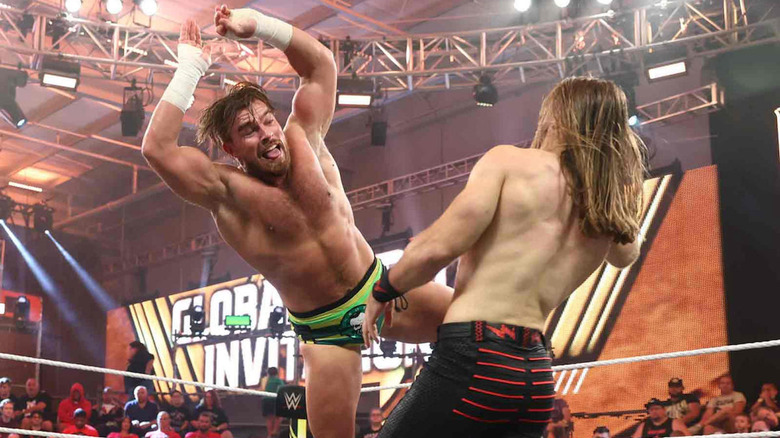 WWE.com
The WWE NXT Global Heritage Invitational Tournament is set to come to a conclusion tonight, as A Block winner Butch will face off against B Block winner Joe Coffey to determine who will face WWE NXT UK Heritage Cup Holder Noam Dar at NXT No Mercy on September 30 in Bakersfield, CA. Also set for the show will be a strap match between Dijak and Eddy Thorpe.
Speaking of No Mercy, Ilja Dragunov and WWE NXT Champion Carmelo Hayes will sign the contract for their title match at the Premium Live Event.
Before the show, Shawn Michaels tweeted that there will be a Triple Threat NXT North American Championship Number One Contender Match between Axiom, Tyler Bate and Dragon Lee. Mysterio recently defeated Lee in an NXT North American Title match on "Raw," meaning Lee now has a second chance at getting his hands on "Dirty Dom."
TONIGHT on #WWENXT

Triple Threat Number One Contender Match

Axiom vs. Tyler Bate vs. Dragon Lee with the winner to face Dominik Mysterio this Saturday for the North American Championship at #NXTNoMercy!

— Shawn Michaels (@ShawnMichaels) September 26, 2023
"WWE NXT" is set to air at 8 pm Eastern on the USA Network.
The show kicks off with Butch's entrance. Meta-Four are watching from their usual perch, dressed for church or a derby, hard to tell.
WWE NXT Global Heritage Invitational Finals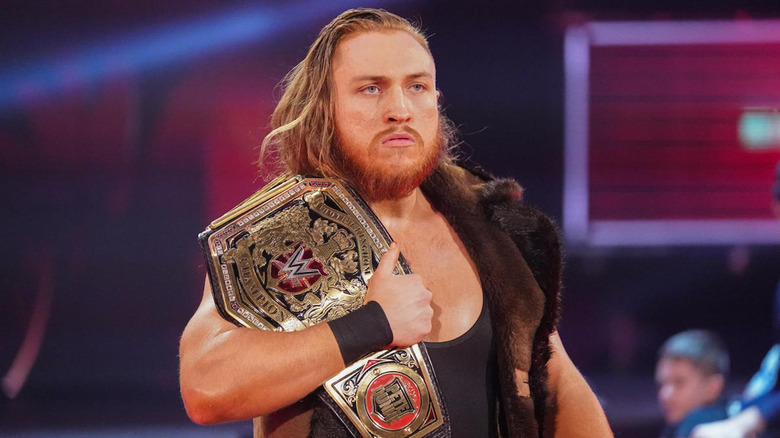 WWE.com
NXT Global Heritage Invitational Finals- Joe Coffey vs. Butch
They lock up to start. Butch smacks Coffey, leading to a "You got Butch-slapped" chant. Back to grappling and Butch gets the better of Coffey, taking him to the mat and wrenching his limbs. Coffey tries to outwrestle Butch but Butch gets him into the corner. Coffey finally gets control and takes Butch to the canvas. Coffey levels Butch with a shoulder tackle. Butch catches Coffey and begins to torture Coffey's arm. 
Mark Coffey distracts the referee. Wolfgang hits Butch in the jaw behind the referee's back. Coffey gets momentum on his side and gets a nearfall. Coffey tries for a dive but Butch hits him in the mouth with a punch. Butch regains momentum and kicks away at Coffey. Gallus is sent to the back as we head to commercial. 
Butch has the advantage during commercial but Coffey overpowers him and dominates him in picture-in-picture. Coffey continues to batter Butch until Butch catches an arm and locks in an armbar. Coffey powerbomb Butch into the corner to break the hold. The two men crawl on their hands and knees and deliver headbutts to each other. Butch wins the headbutt battle. Coffey recovers and delivers headbutts of his own. Coffey beats Butch, who retreats to the apron. Butch counters and delivers 12 Beats of the Bodhrán on Coffey. Butch continues to attack the arm. Coffey hits a headbutt. Butch counters a powerbomb on the apron and delivers a DDT, spiking Coffey into the apron.
Back into the ring and they trade blows. Coffey hits a springboard crossbody. Coffey hits a Deadlift German Suplex. Coffey hits a huge shoulder tackle but Butch fights off the discus lariat until he can't anymore, and is decapitated by Coffey. Coffey crawls for the pin but Butch recovers and locks in a Fujiwara Armbar. Coffey fights out and hits a huge Powerbomb. Coffey hits a shoulder tackle. Coffey hits a discus lariat for a nearfall.
Butch retreats to the floor. Butch dodges a shoulder tackle, sending Coffey into the steel steps. Butch gets Coffey back into the ring and hits a Bitter End for the pinfall.
WINNER: Butch
Backstage, Dominik Mysterio gloats about his win over Dragon Lee, oblivious to the triple threat number one contender match later tonight. Mysterio is furious.
Williams vs. Gacy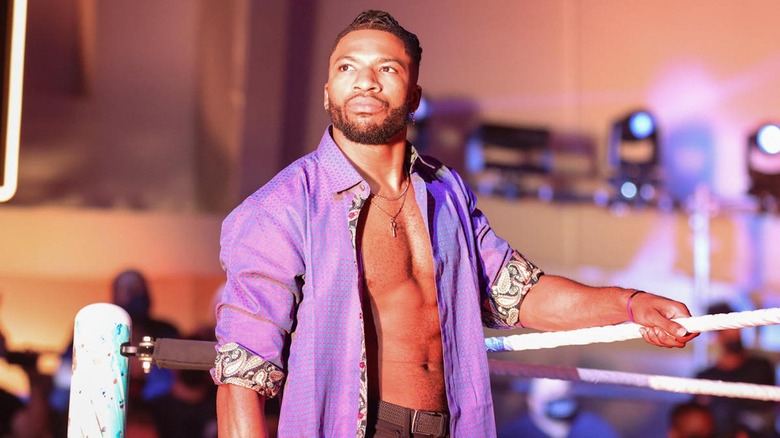 WWE.com
In an Italian restaurant, Tony D'Angelo and "Stacks" invite Humberto and Angel to dine with them. Angel says that they came there for the NXT title, Stacks tells them to wait for the others.
Trick Williams vs. Joe Gacy
They lock up. Williams drops Gacy with a shoulder tackle. Williams bodyslams Gacy. Williams maintains dominance, ducking and dodging attacks from Gacy. Gacy blocks a hip toss and drops Williams. Gacy stomps away on Williams. Gacy mounts Williams and pummels the back of his head. Gacy locks in a Bulldog Choke. Williams starts to power out but Gacy breaks the hold and stays on the attack.
Williams fights back with punches and then a standing side kick. Gacy hits a corner lariat. Williams counters a Handspring Lariat with a knee strike and covers for the pinfall.
WINNER: Trick Williams.
After the match, Williams says it feels good to get the win and is ambidextrous, "I hand out an ass whooping with both hands." Williams says that he's betting on Carmelo Hayes to win at NXT No Mercy. Williams says that he wants a title of his own.
Backstage, Blair Davenport calls out Gigi Dolin and tells her to watch what she does tonight.
Corbin vs. Briggs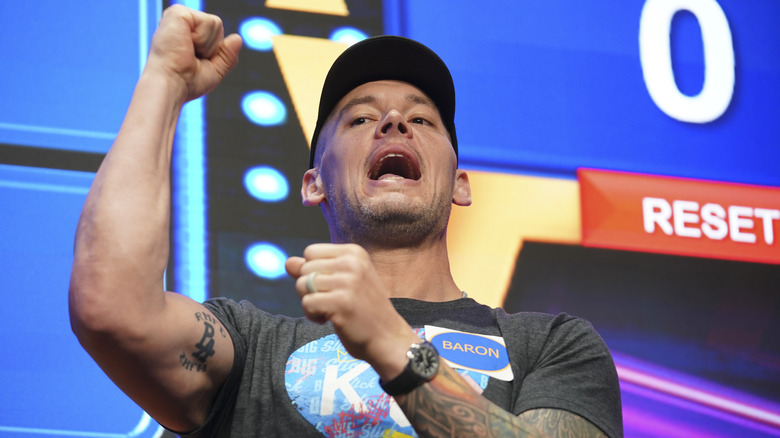 Kyle Rivas/Getty Images
Backstage Andre Chase and Duke Hudson are looking for Thea Hail. Jacy Jayne reveals Thea in an all-black ensemble. Thea says she finally feels like "a grown-ass woman." Jacy says to wait until they see her new ring gear.
Baron Corbin vs. Josh Briggs
Corbin immediately gets Briggs into the corner. Briggs comes out of the corner swinging, fighting Corbin to the floor. Briggs throws Corbin from pillar to post on the outside and then throws him back in the ring. Briggs hits a huge big boot. Corbin fights back with a huge slam for a nearfall. Corbin batters Briggs. Corbin hits a huge splash in the corner. Briggs comes back with a sideslam and a splash for a nearfall.
Briggs delivers more heavy blows to Corbin. Corbin uses the referee as a human shield and smacks Briggs. Corbin comes back and hits End of Days for the pinfall.
WINNER: Baron Corbin
Corbin gets on the mic and says that at No Mercy, we'll learn in Bron Breakker has more bark or bite. Corbin says he burned his past and is looking at the future but gets interrupted by Breakker, who immediately starts brawling. Security does its best to separate the two men. Referees begin to help. The crowd chants "Let Them Fight" as the show heads to commercial.
Back from commercial and Trick Williams asks to see Shawn Michaels.
A video preview of this weekend's Extreme Rules Match between Tiffany Stratton and Becky Lynch, recounting the history between the two women.
After the video, Hank and Tank are in the ring. Out The Mud comes out next.
Winner Gets A Seat At The Family's Table: Out The Mud vs. Hank & Tank
Price starts out against Tank. Hank and Tank relentlessly double team Price. Tank gets a nearfall. Price comes back with a crescent kick. Nema tags in and takes out Tank with a big boot. Nema chokes Tank on the rope and tags Price back in. Price hits a corner lariat. Nema tags back in but gets rolled up by Tank. Hank tags in and takes out Nema with a tackle and delivers some punches.
Hank maintains dominance and then tags Tank back in. Scrypts distracts the referee and Out The Mud hit a Double Suplex Slam for the pinfall.
WINNERS: Out The Mud
Backstage, Gigi Dolin is stretching. Lights go out. Mayhem is heard. Lights back up and Blair Davenport stands over a prone Dolin.
Strap Match Time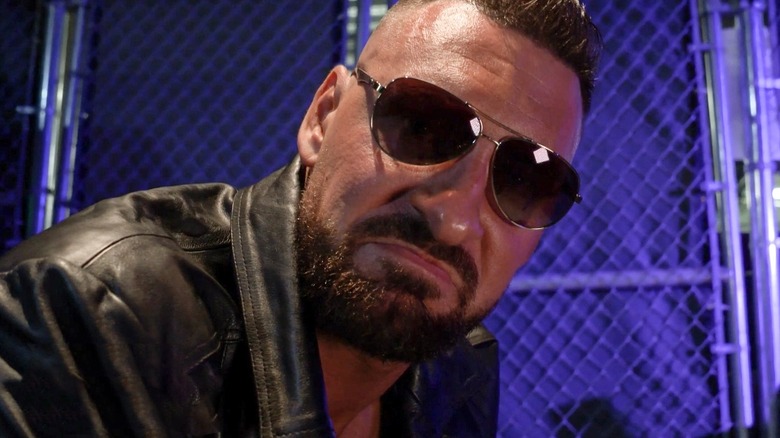 WWE.com
Back from break, WWE hypes the upcoming supershow in Perth, Australia.
Back at the Italian restaurant, Humberto and Angel explain that their scratch logos on their chests is a tribute to their grandfather. The Creed Brothers show up and take a seat at the table.
Backstage, Tyler Bate and Axiom explain that they have respect for each other but have to take the opportunities that come. Trick Williams reveals that he's going to be in the Number One Contender match.
Strap Match: Dijak vs. Eddy Thorpe
Dijak immediately gets out of the ring and tries to pull Thorpe out of the ring. Thorpe dives out of the ring and sends Dijak back in the ring. Dijak pulls the strap to get Thorpe off his game. The two men trade blows. Dijak overpowers Thorpe.
Thorpe misses a kick and gets caught in the ropes. Dijak whips Thorpe. Dijak tosses Thorpe out of the ring. We head to commercial.
Back from break and Dijak is choking Thorpe with the strap. Thorpe fights out. Thorpe lariats Dijak out of the ring. Dijak slams Thorpe on the apron. Dijak trash talks Thorpe's family as he ties up Thorpe's wrists with the strap. Dijak whips Thorpe with the strap more. Thorpe collapses. Dijak throws Thorpe back in the ring. Dijak takes off his belt and wraps it around his fist. Thorpe fights back and whips the hell out of Dijak. Thorpe steps on Dijak's hand and whips him some more. Thorpe hits Dijak with a fist-wrapped-in-belt. Thorpe climbs to the top rope and hits a diving elbow drop for the pinfall.
WINNER: Eddy Thorpe
After the match, Dijak attacks Thorpe and ties him into a Tree Of Woe position in front of his family. Dijak whips Thorpe with the belt. A bunch of referees escort Dijak out of the arena.
Backstage, Jacy Jayne waits in anticipation for Thea Hail's new ring gear.
Thea Hail's New Look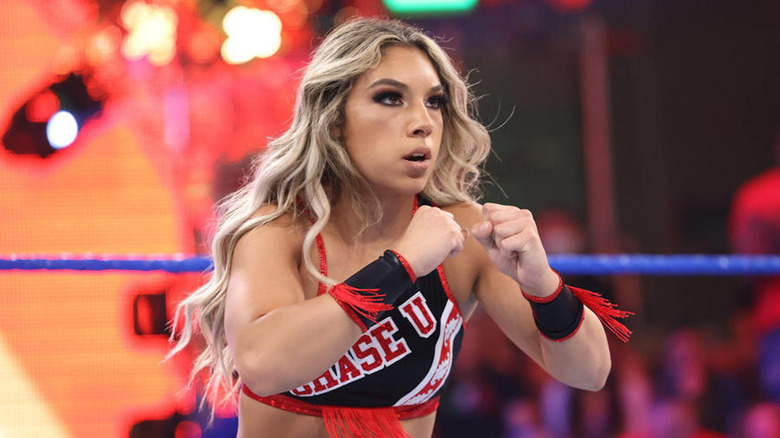 WWE.com
Back from break, Blair Davenport interrupts commentary during Dani Palmer's entrance, updating that Gigi Dolin isn't cleared to compete after her attack.
Thea Hail has a new rock music entrance theme and black, strappy new attire, not unlike a mix between Julia Hart and Rhea Ripley.
Thea Hail vs. Dani Palmer
Palmer starts the match in control but Hail quickly out-wrestles Palmer and manipulates her limbs. Palmer comes back with a headscissors. Hail grounds the match and locks in a Fujiwara Armbar. Hail fights back and gets a series of nearfalls.
Palmer hits a big dropkick. Palmer climbs to the top rope. Hail dodges a Spiral Tap. Hail locks in a Kimura Lock for the submission.
WINNER: Thea Hail
Backstage, Williams is hyped about his success earlier tonight and the main event. Carmelo Hayes is distracted, much to Williams's chagrin.
North American Title Contender's Match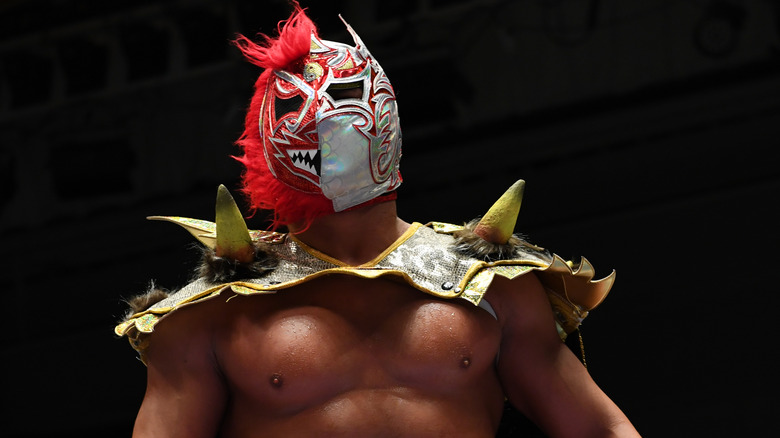 Etsuo Hara/Getty Images
Backstage, Baron Corbin is about to be interviewed when Bron Breakker comes flying into the frame, taking out the former US Champion.
WWE NXT North American Championship Number One Contender Match: Axiom vs. Tyler Bate vs. Dragon Lee vs. Trick Williams
Match is shown in progress, with fast and furious action between all four men. Bate and Williams spill to the outside. Lee and Axiom tangle in the ring. Axiom dives onto Williams and Bate. Lee dives onto all three men.
Williams locks Lee in a Boston Crab. Bate locks in a Fujiwara Armbar. Axiom locks Williams in a Rear Naked Choke. Bate breaks up the four-way submission. Willaims uses his size advantage to take out the other three men. Williams hits a big double flapjack as we head to commercial.
Back from commercial and Axiom gets a nearfall on Tyler Bate. Axiom drops Bate on top of his head with a suplex. Axiom takes out Williams and Lee. Axiom gets another nearfall off a clothesline and and DDT combo. Lee hits a Cabron Combinacion on Axiom in the corner. Lee hist a Sitout Powerbomb on Bate for a nearfall.
Williams clears the ring and slams Bate. Willaims hits a Double Book End on Lee and Bate for a nearfall. Bate fights back with a DDT on Williams. Bate Airplane Spins Dragon Lee and then also spins Axiom at the same time. Bate hits as German Suplex on Lee. Bate hits a Rebound Lariat on Williams for a nearfall. Axiom hits Lee with a huge Canadian Driver. Everyone is down.
Bate hits Bop n' Bang on Axiom. Williams takes out Bate. Axiom takes out Williams. Dragon Lee takes out Axiom. Lee climbs the top rope. Bate recovers and meets Lee up there. Axiom recovers and joins them. Bate gets sent to the canvas. Axiom hits a Avalanche Spanish Fly on Axiom for a nearfall. Lee hits Destino on Axiom for a nearfall. Williams sneaks in and gets the pinfall.
WINNER: Trick Williams
Back at the Italian restaurant, everyone is jovially eating but Out The Mud come in to say they're not there to eat. Humberto forces the conversation about who will challenge The Family. Out The Mud says that if they aren't given the match, they're making a scene. D'Angelo calls in security. D'Angelo says that all of the teams will be in the match at No Mercy, as The Family doesn't want anyone to say they took it easy. Everyone raises a glass to the match.
Backstage, Dominik Mysterio says he's gonna "Whoop that Trick" before thanking Dragon Lee for the black eye. Dominik says he runs NXT. Dragon Lee attacks Dominik.
No Mercy Contract Signing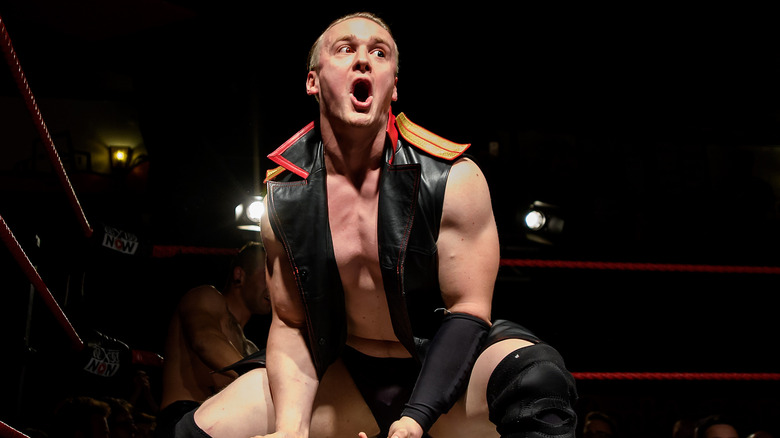 Matthias Hangst/Getty Images
Back from commercial and a video that mentions WCW Saturday Night and the Cincinnati Bengals plays, likely a tease for Brian Pillman Jr.
Carmelo Hayes and Ilja Dragunov come out for their contract signing. Hayes says they should just sign the contract and get this over with. Ilja calls Hayes "the wrong person at the wrong time" and Hayes throws that back at Dragunov. Hayes says he knows that he'll beat Dragunov. Dragunov calls Hayes overconfident and tells him he'll know "unbearable pain" at No Mercy. Hayes says Dragunov believes his own hype, and that he didn't beat him at the Great American Bash. Dragunov says it's his destiny to win the title.
Hayes says he's undeniable and that he's "him." Hayes says he's better than the people Dragunov's beaten, accidentally throwing Trick Williams under the bus. Hayes says he'll push Dragunov to his limits.
Dragunov signs the contract and says he's tired of destiny slipping through his fingers. Dragunov says Hayes's dynasty will fall, "Long live the czar." Hayes signs the contract and calls himself a "beacon of hope" for kids that look like him.
Commentary announces that Dragon Lee will be the special referee for Dominik Mysterio vs. Trick Williams. Backstage in the parking lot, Bron Breakker throws Corbin into a car, denting it. Corbin dodges a spear, sending Breakker into the car door. The two men continue brawling. Corbin chokeslams Breakker onto a car. The two men continue brawling, fighting into the backstage area, through a wall and into the office of Shawn Michaels, the two men brawling as the show goes off the air.