The Butcher Discusses The One AEW Opponent Who Gave Him 'Imposter Syndrome'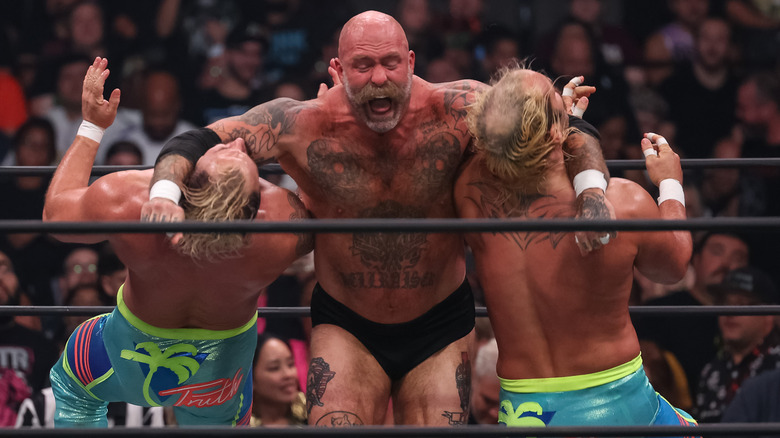 AEW
As both an experienced pro wrestler and rock guitarist, The Butcher is someone used to performing in front of live crowds and not getting rattled or nervous when doing so. But there was one occasion when the AEW star was a little bit star-struck in the squared circle, and that's when he found himself on the opposite side of the ring of "The Icon" Sting.
During an appearance on "Notsam Wrestling," the Butcher talked about wrestling Sting, whom he's faced on two occasions, most notably during a Tornado Tag match involving The Hardys, Darby Allin, The Blade, and Private Party on a March 22 episode of "AEW Dynamite." Butcher put over how great a performer Sting was in the match, and how he was more than willing to keep up with everyone. Butcher then proceeded to reveal one spot during the bout gave him an out-of-body experience.
"In that match, I called a spot where I was mocking him...I mocked the Stinger Splash and stuff like that," Butcher said. "And I was on the other side of the ring, looking at him... You see the arena, and it's filled with people, and they're reacting, and you're like, 'What am I doing? What am I doing right now? Where am I? Am I in the world? I'm about to hit Sting with the Stinger Splash.' I never put myself ever there, ever. And still, sometimes I have that imposter syndrome where I was just like. 'This is so weird. I feel like I'm floating above myself,' looking at the situation and thinking I'm watching Nitro."
If you use any of the quotes in this article, please credit "Notsam Wrestling" and provide a h/t to Wrestling Inc. for the transcription