Brock Anderson Says Hall Of Fame Dad Arn Isn't His Favorite Wrestler, Picks WWE Star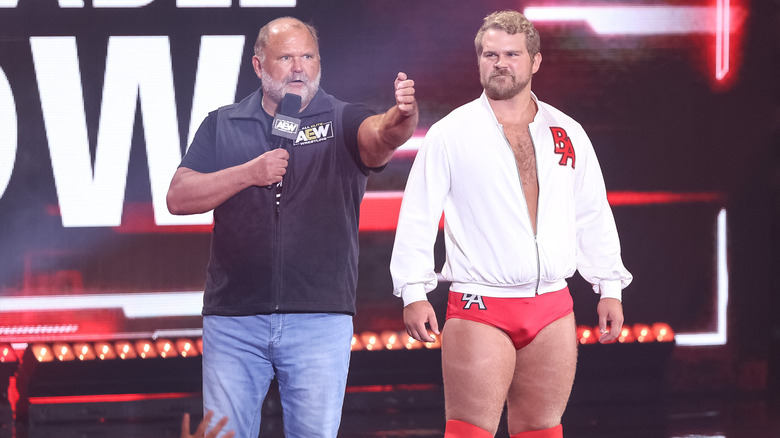 AEW
Brock Anderson may be the son of WWE Hall of Famer and creator of the Four Horsemen, Arn Anderson, but his father actually wasn't his favorite wrestler growing up, though he has a good reason for that. On a recent episode of the "ARN" podcast, Brock explained he actually didn't see much of his dad's career, as he was only six months old when Arn delivered his emotional retirement speech on an August 1997 episode of "WCW Nitro." 
Brock, who has appeared alongside his dad in AEW, said he never actually got to see his dad wrestle. On the podcast, he described the first moment he realized Arn had "something to do with the whole big theatrical production" that is professional wrestling was at WrestleMania 18, when he interfered in Ric Flair's match against the Undertaker. 
"So my favorite growing up was the 'Heartbreak Kid' Shawn Michaels. He was my favorite, hands down, and he was part of the match that actually made me really want to become a wrestler," he explained. "Him and Taker, that first one, WrestleMania 25. I sat there glued to the ring, watching every moment of that match, and that's when it clicked in my head. I was like, 'I know this is what my dad does and I've been to these shows and been around it,' but it was the first time I remember, 'I think this is what I want to do.' They just went out and had that crowd in the palm of their hands and I want to feel that."

Brock was just six years old at WrestleMania 18 and said that because he looks older, nobody knows the timeline and assumes his dad was his favorite.
If you use any quotes from this article, please credit "ARN" with an H/T to Wrestling Inc. for the transcription.